For the past few months I've been sending out emails, checking dates. It's hard to plan things around this time of year because people go out of town, or have their Friday nights and weekends already booked with other holiday events. I'm not sure how many dates I proposed before eventually settling on today, if only because a majority of people said that they could probably make this one (but not all the others). I even managed to track down, through a series of convoluted steps, emails for a lot of people I don't even know, just because I knew they'd also want to come. And then there was the cake pan, which I remembered from when my sisters and I were all little kids, and I knew I could make it work for what I intended, and my little sister shipped it down to me from Seattle, in care of my parents so Richard would never know.
I arranged to get him out of the house, and the minute he and his friend shut the door behind them, I hit the ground running, managing to throw in a trip to the grocery store, a trip to a party supply store, and the baking of two cakes, not to mention a little bit of cleaning and decorating and a quick shower, all in the space of about three hours.
Alas, his friend was unable to delay him as long as we'd hoped, and Richard showed up a bit earlier than expected. So there was no chance to organize everyone into one room to holler "Surprise". So his 40th birthday party was only partially a surprise, as everyone else ended up drifting in just about the time he was supposed to come home anyway.
Regardless of the time slip, it was a lot of fun. We had about 25 people crowding into the house. The first few to arrive were greeted with my rather frantic "Hello – uh, can I put you to work?" and then had things like crepe paper streamers and tape tossed at them before I dashed madly back to the kitchen to finish frosting the cake. My very crafty friend was one of the first ones to arrive, thankfully, because I was then able to wheedle her into carving a set of wings out of styrofoam for the cake, while I hacked marshmallows into pieces and stirred red and green food coloring into batches of frosting, and frosted as fast as I could, so as to make the very best Cthulu cake someone who is not remotely a cake decorator could manage to build.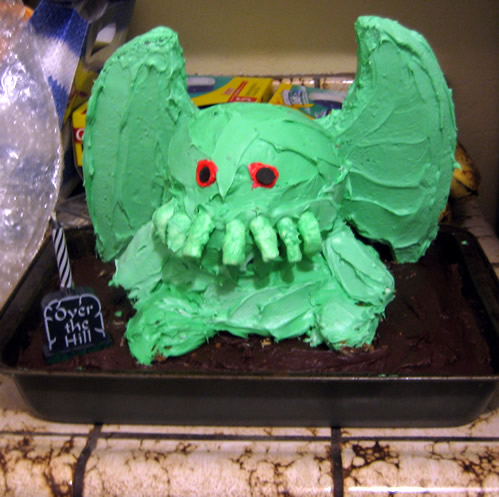 I think I'm allowed to be pretty proud of this cake, considering my glaring lack of artistic talent in the food decorating department. The bottom is a regular sheet cake covered in chocolate frosting, for 'dirt'. The top was made from a teddy bear mold that has the bear actually sitting up. I sawed off the ears and used those as his legs. The eyes are chocolate chips on red frosting. The wings were carved from styrofoam, and the tentacles and arms are made of marshmallow wedges. The candle, by the way, plays "Pray for the Dead" if you press the little button on the back.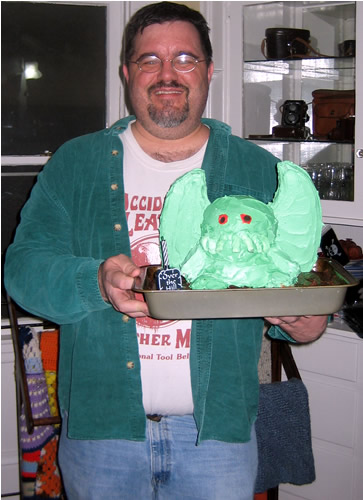 A nearly 40-year-old and his Cthulu cake (I'm including this picture to provide scale). I am pretty sure that even if he had his suspicions about the party, he never expected this as a cake.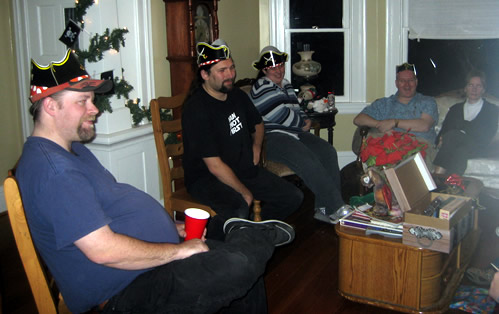 I'm including this picture, showing only a small fraction of guests, to show that everyone got pirate hats (if they wanted) when they walked in the door, because this was also a pirate themed party (it went well with all the 'Over the Hill' black table settings – hee). Hooray for party surplus stores located a short driving distance away! There were also little pirate flags stuck everywhere all over the house (courtesy of the mad decorating skillz of our crafty friend's daughter), and a string of pirate lights, and a big Happy 40th Birthday banner, and crepe paper streamers everywhere (and I cannot thank enough all the first arrivals who were nice enough to jump in and help finish decorating). And all his presents were put into a cardboard treasure chest, just to keep with the pirate theme.
There was a lot of laughing and talking and teasing, and little clusters of people here and there talking nerd-speak, or writer-speak, or some other conversation relating to how they knew Richard. There was plenty of food and soda for everyone. And now that everyone is gone, and Richard and his younger sister (who came up for the surprise as well) and I have managed to clear most of everything away, there is a tiny little plate in the kitchen with the head of a very tasty elder god, which, along with the still-hanging streamers and banner and flags, all that is left of Richard's very nearly a surprise 40th birthday party.
Happy Holidailies!