I thought we had more time. Although I'm not sure which was worse in the long run, thinking we had more time, which meant more time to watch and worry, or having it all go by too fast.
She was losing weight. She'd always been thin, but this was getting too thin. Rosemary was due to go in for a blood check anyway, to make sure the pills were keeping her thyroid hormones stable, so I decided it would be a double-tortie vet visit. I carefully placed the carriers in the car so they couldn't see each other. Checkers and Rosie never liked each other. Checkers didn't like much of anyone, for that matter – except for me. Most of our life with her involved a lot of arranging things for her so she didn't have to deal with anything else but me.
He felt lumps in her intestines, and I could tell by the look on his face that it wasn't good. She went back in, later, for x-rays. When I went to pick her up, he took me aside to talk. There are treatments, but life expectancy isn't great. The least invasive is pills, but only if she'll tolerate them. We are talking about Checkers here. Treating her for anything has been a massive struggle.
I brought home a bottle of pills and some pill pockets – little treats into which you stuff a pill so the cat will eat it with less fuss. She took them for four days. I started to feel a small sense of relief. The internet said if she'd do the treatment, we could get a temporary reprieve. The vet said it always comes back, but maybe she'd get another few months or a year or two.
The fifth day she bit the pill pocket in half and tasted the pill, and that was it. Four and one half pills. No more.
I tried to catch her to take her back for the next type of treatment – steroid shots. She freaked out and bit me, hard. I've been bit and scratched thousands of times in my life, but never like this. I sat down on the floor and cried, partly because it hurt like hell, and partly because I didn't know what else to do. How do you explain to a cat that this is the only thing standing in between her and death?
He said that this wasn't painful; that it will mainly just make her waste away. I saw her eat. I bribed her with wet food. She spent most of her days under the bed, only coming out at night to burrow under the blankets and curl up as close to me as she could, purring and shoving her head into my hand for pets.
Last night – although it was really early this morning – we came home from a trip down to San Jose to watch Richard's parents' play. Getting ready for bed, I noticed Ingrid and Rupert staring under the bed. Leave her alone, I told them, and then crouched down to find her. She was stretched out under the bed, barely breathing. I yelled for Richard. He brought me a towel and I pulled her out gently and wrapped her up and held her in my arms. At some point during the drive to the emergency vet, she passed away.
August 8th is when we were given her diagnosis of lymphoma. It's only been four weeks. I thought we would have more time.
I wanted there to be more time.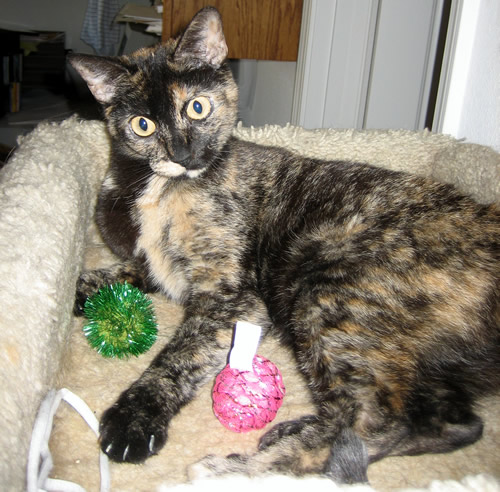 Checkers: March 2003 –  September 4, 2011