Last year, one of my fellow knitters and I both bought yarn, specifically to make stranded colorwork mittens. Except that then we never actually got around to *making* those mittens. So this year, we decided that January would be the month of mittens. Anyone who wanted to join in could do so, using whatever pattern they wanted, just as long as it was mittens.
I suspect I may be the only one who's actually *doing* this so far, but that's okay. I've been having fun. A lot of fun. Apparently I had forgotten just how much I enjoy doing stranded color work. No, I really am not kidding. There's something kind of magical about it. It always takes me a little bit to get back into the swing of carrying two strands at once, and some parts of colorwork (corrugated ribbing, for example) can be really fiddly. But eventually I slide right back into that rhythm and I'm off.
I made some fingerless gloves years ago, but who knows where they ended up. The temperature at my office tends to fluctuate wildly, depending on the weather, and whether or not the wall gauges actually feel like working that day. The front half of the office gets lots of direct sun, but the back half, where I am, is like a little frozen cave, and there have been days when I sit at my computer with my coat on, huddled next to the space heater that technically I'm not supposed to be using (shh), trying to type and use the mouse with icicles for fingers.
So my first goal this month was to whip up some new fingerless gloves. Luckily I found the yarn I bought last year (KnitPick Chrome), so I was all set. Normally I wouldn't be willing to make something utilitarian out of a yarn that has to be handwashed, but since these were for me, I can be pretty sure that the person using them will refrain from tossing them accidentally into the washer.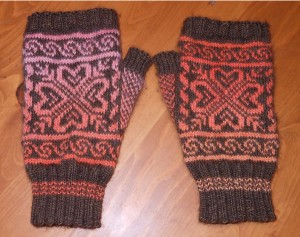 The pattern is Wintergreen Gloves. The yarn has long color changes; hence the shift in hue from dark orange to light. I made some minor modifications by lengthening the hands just a bit, since as I mentioned previously, I get icicle fingers.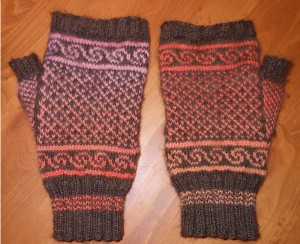 I finished these in just about a week, and I've been wearing them in the car (it's been really cold out lately) and at the office ever since.
Once I finished these, Richard starting making sad noises about his own chilly hands, so next up were these.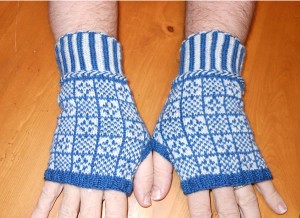 The pattern (Men's Fair Isle Mittens) was for full mittens, and has a solid color cuff, but Richard only wanted fingerless gloves, and I didn't feel like slogging through three inches of solid color ribbing. So I switched things up a bit and did some corrugated ribbing, topped with a Latvian plait, for the cuff, and then tacked on a tiny bit of solid-color ribbing at the top for hand and thumb. I whipped these up in only a few days (see above re. getting back into the rhythm of colorwork).
The third pair (so far) this month I actually started about a week ago, and finished the first one before getting side-tracked by the mitts for Richard. When I saw the pattern, I knew I needed to make myself a pair.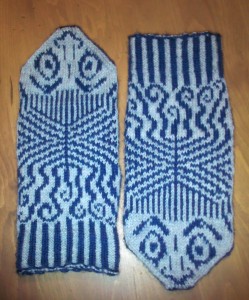 The pattern is Recess for Grownups, because puppet mittens aren't just for kids, after all. It took me just a hair over two balls of sock yarn to make these and the mitts for Richard.
Here's the palm side.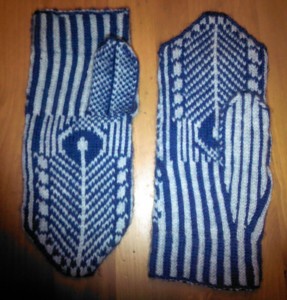 There are only seven days left in the month, and next month we're jumping into helical socks and leaving mittens behind. So I am pondering whether or not I want to try for one more pair, or if maybe the mitten obsession is done for a while. Although I am so very tempted by these. And these. And…well, you get the idea.