I like setting goals for myself. I do not always meet them, but sometimes I manage to check all the boxes and do what I set out to do. Case in point – I have now done 2 of the 4 5K runs I promised myself I would do this year. The first was in January, and the second was in May (I didn't manage to run the whole thing in January, but I *did* run the whole thing in May. Go me!). We've registered for the 3rd (in October), and I have an idea for the fourth (which, depending on my own ability, might actually be a 10k, but let's not get too excited about that just yet), plus I'm looking out more long term and have agreed to run Bay to Breakers next May with a group. I am currently ignoring the fact that Bay to Breakers involves at least one nasty hill, and more importantly, that it is actually a 12K route, but I have plenty of time to panic about those pesky little details later.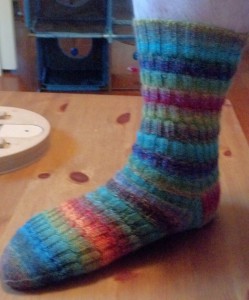 Richard decided he was going to embark on another Story-A-Week challenge, starting in July, I decided I needed to set myself a weekly goal as well. Spurred by the fact that my yarn stash is still a bit on the large side, I decided I would try to do finish one sock per week (or if not a sock, roughly the equivalent in stitches / yarn knit).
The first sock done was the second in a pair for Richard – these rainbow colored Gentleman's Fancy Socks. The pattern comes from the book Vintage Socks, with my own modifications; I did not do as many calf decreases as called for in the pattern, and I used my regular slip stitch heel instead of the stockinette heel called for in the pattern.
Yarn is some form of Trekking XXL that's been in the stash for a very long time.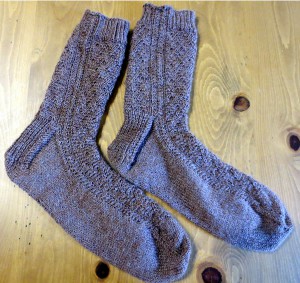 For week 2, I decided to cast on a pair for myself. Since we spent that weekend attending a local Science Fiction/Fantasy convention (Westercon), I knew I'd have a lot of available knitting time while sitting in panels, or relaxing in the lounge in between sessions. So I cast on for a pair that would be complex enough to keep them interesting, but not so complicated that I couldn't knit them while still participating in discussions.
Turns out that I had more time to knit than I thought, plus even with all the twisting of stitches, these knit up a lot faster than I was expecting, so instead of finishing just one sock, I actually finished the pair. Bonus – this puts me one sock ahead, which I am sure will come in handy later in the year when I am super busy with work and life and do not have as much time to knit.
Pattern is Inlay. Yarn was from the stash (Opal, I think).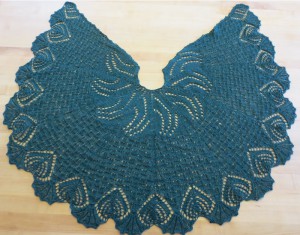 After that I realized I had a lace knitting guild meeting coming up and I really needed a new lace pattern to cast on, so I decided that lace (or in fact any) projects that use up sock yarn work for this challenge.
I cast on shortly before heading off to the guild meeting, and had so much fun with it I kept on working on it pretty much every night and then suddenly it was done. Bonus – it used nearly 3 balls of sock yarn from the stash.
Having no more sock yarn on the needles, I promptly cast on for yet another. Alas, I only finished one of the two before month's end – Gentleman's Half Hose in Ringwood Pattern (also from Vintage Socks) in a vintage yarn (dark blue) from the stash (if by 'vintage', I mean 'discontinued', but why quibble over the details).
Grand total for the month – four socks knit, plus a bonus 3 balls of sock yarn removed from the stash for the shawl. Game on.