So while we were pulling out all the Christmas stuff this weekend, I stumbled across something I'd picked up at last year's after-Christmas sales – something that made me stop what I was doing and immediately go try to track down some unsuspecting cat in order to snap a picture for this year's holiday recap letter (which we are actually going to remember to do this year, unlike last year when it never happened).
I got a lot of not-very-good shots, like these: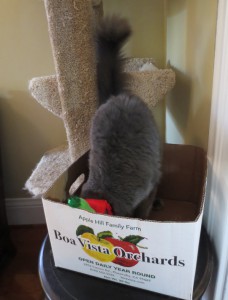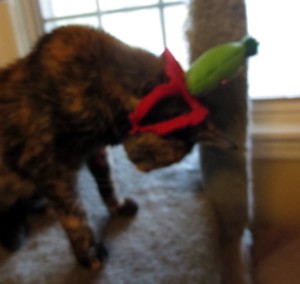 And one semi-decent shot like this:
which would have worked if we'd thought to defuzz the tree prior to pulling out the camera. Oops.
But then I finally managed to catch a cat who was just waking up, and too sleepy to do more than just glare at me, instead of immediately trying to remove the offending hat. And I also managed to capture the perfect shot. The fact that the gargoyle in the background also sort of looks like it's trying to flip you off is icing on the cake.
So here. Sherman has a very special holiday message for all of you. Happy Catmas!
'Tis the season for Holidailies!