So for the past few months I've been working on some Christmas presents. Well, okay, if we're going to be correct, technically I've been working on a whole lot of other projects, primarily some rather large test knits, with some time spent on presents in the middle. But with the last test knit finished up at the end of November, I took a look at the calendar, and at how much I had left on the presents, and had myself a tiny little panic attack. And then pretty much every single moment where I wasn't at work or rehearsing for the Vox Musica concerts, or sleeping (because despite my better efforts, I apparently still need some of that), I have been knitting.
I got them all done yesterday. Alas, they were not all completed by the time I handed them over to their recipients, but since we were all sitting around chatting at my parents' place, I snatched back the two that still needed work (one had ends I'd forgotten to weave in, and the other still had about half the border to complete) and knit as fast as I could until they were finally completed.
(as usual, click to view larger version of any of the pictures)
This is a larger version of the Linus Blanket. I really liked the basketweave texture so I cast on 161 stitches in worsted weight yarn, knit for 20 pattern repeats, and then finished with the garter stitch border and bound off. I'd say it was a hit, if only because my (teenage) nephew pulled it out of the bag, spread it over his legs, and then promptly nodded off to sleep while the rest of the family chatted around him.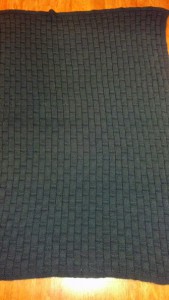 This is a larger version of the Gradient Blanket. I cast on 152 stitches, did a pattern repeat of 18, and kept on going until it was done.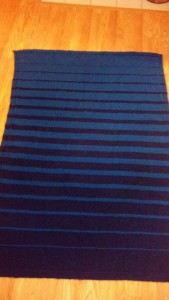 This one is the Lacy Throw, which I made for my sister because while she's not a girly girl, she's the only female in a household of males and I thought she ought to have something with a teensy bit of femininity. And I am dead serious when I say that I never even noticed that there was a discrepancy in the dye lot of the yarn I used, the ENTIRE TIME I was knitting it (hence the slightly darker swath there at the top), and it wasn't until my older sister pointed it out that I realized what happened. She thought I'd done it on purpose, so…uh…yeah. Oops. Headdesk.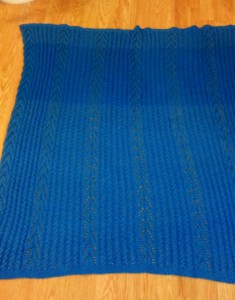 And finally, this one is a Short Rows Pinwheel. I have made more than one of these because I love, love LOVE the effect you get when you swap the yarn every 2 rows (the entire thing is in garter stitch). We shall not speak, however, of the interminable black hole of knitting that was the knit-on border. This is the one that I was still actively knitting yesterday after giving it to the recipient.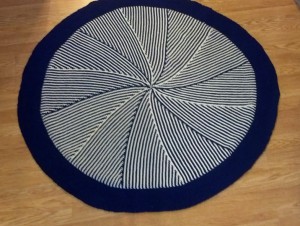 'Tis the season for Holidailies.