So yes, I know that technically the month of daily dishcloths was supposed to be over as of yesterday. But I woke up at about 5:30 this morning, worrying about Rosie and the weird hole in her mouth, and so I went upstairs to check on her (she demanded food, so all was as usual), and then sat down on the couch and stared at the remnants of my cotton stash. I started working on another boring garter stitch square (this time with stripes), but then realized I just couldn't do it. Not more garter stitch. So I ripped it all out and started over and noodled around until I came up with something a little different. Each pattern repeat reminds me a little of zipper teeth, so I have dubbed it Zip It!
(I would like to point out, for the record, that what you see here includes the VERY LAST of the teal yarn. Let the cheering commence.)
Once that was done, I scribbled some notes and stared at the cluster of tiny little balls of yarn still remaining and I thought hmm, I bet this would work great with scraps. And so then I knit up Zip It! number two.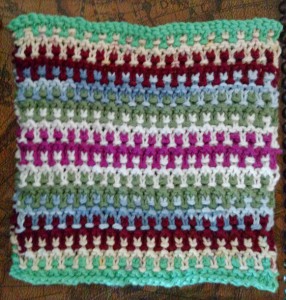 I've been working today on firming up the pattern for the thing I spent most of yesterday on (including an awesome photo shoot with some very accommodating friends), but that isn't quite ready to share. So instead I wrote up the Zip It! pattern, and uploaded it to Ravelry, and have made it available for free. You can download it via Ravelry here.
And with that, I believe I am finally done with the dishcloths. Grand total for this little personal challenge: 32 dishcloths.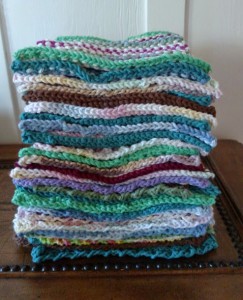 Boy oh boy, if I ever need to do some serious cleaning, I think I'm now ready.