Do you know what is even more fun than picking up 500+ stitches and knitting a whole mess of colorwork?
Discovering that you missed a crucial line in the instructions and having to rip it all out and pick up those 500+ stitches all over again, that's what.
Fun times.
*****
This weekend has pretty much been all about getting up early, frantically knitting (also crocheting, ugh, whose stupid idea was it to do these snowflakes again?), studiously ignoring the fact that the house is in dire need of a scrub, and Vox Musica performances. I've ended each day simultaneously wired from the performance, and completely exhausted. The performances were pretty amazing though – and I'm not just saying that as one of the ensemble members. Both nights were sold out, and it was awesome to feel the audience's enthusiasm and excitement after we finished each piece.
I did manage to squeak out a snowflake for today. This was a rather hasty blocking job, shortly before I had to run out the door, so forgive any wobbly points.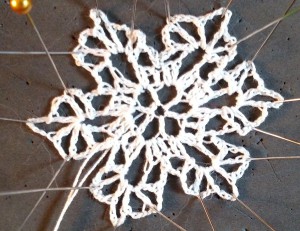 Making a snowflake a day for Thingadailies.