Here is today's snowflake. If you squint you can pretend it's a circle of tiny little candles. Or something.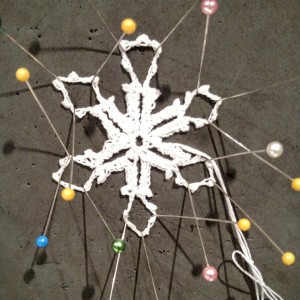 This is one where I looked at the directions and thought rather grouchily to the designer 'Really? you're putting that stitch *there*? You're being deliberately difficult, aren't you.'
The skies opened up and stormed for an hour or so while I was making this. Good thing I went and did a nice long walk at lunch or I'd have been doing a *lot* of pacing around the house to make up the 10,000 steps.
Making a snowflake a day for Thingadailies.