I realized I haven't actually talked about this at all, either here, or anywhere else I'm online, so…hey. I do a new thing now (that is yarn-related, because of *course* it is).
Last year, the Lacy Knitters Guild was looking for a new editor for the quarterly newsletter, which is half articles and half patterns. I started to ponder it but while the pattern section sounded like it'd be a whole lot of fun, the thought of having to come up with enough text for the front section was extremely intimidating. So I checked in with my friend, who was feeling the same way, except that it was the articles she thought would be fun, and the pattern section she thought wouldn't. Long story short, we decided what the heck, we'll give it a go, so basically ever since then, in between work and rehearsals and test knits and all the other stuff I've got going on, three of us (my friend, me, and our webmaster) have been making plans and having the occasional planning conference call and firing stuff back and forth to each other for editing and discussion. And I've been doing a *lot* of work on the lace itself – either charting out patterns (which has been interesting because terminology has changed a LOT since some of these were written, plus some need to be translated to English), or knitting them, or figuring out how to photograph them quickly, before the cats move in and turn it all into another lounging area and cat hair collection spot (last part is sometimes more difficult than you might imagine).
We've now put out three newsletters (with only a couple minor hiccups, but it's all part of the learning curve!) and so far I've been having just as much fun with it as I expected. I've gotten pretty good at Stichmastery, and it helps that I'm a pretty fast knitter to begin with, because the turn-around time for some of this has been a bit quick, but the pile of lace work based on vintage patterns is growing, and it's possible that I may or may not have used this as an excuse to invest in a large quantity of laceweight cotton yarn, but hey, it was on sale and you get free shipping if you hit a certain amount in your shopping cart and yarn purchased for 'work' doesn't technically violate the unofficial yarn diet I've been on for a while, cough, cough.
*****
Anyway. Enough about knitting. Look, it's another snowflake!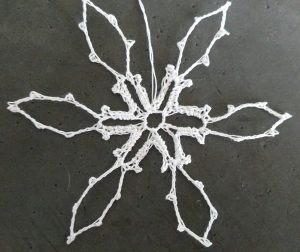 Making a snowflake a day for Thingadailies.