My younger sister is a baker – not just a baking enthusiast like me, but a 'went-through-training-and-knows-what-she's-doing' baker. So she's who I contact when I have questions about why my bread is doing things it shouldn't be doing, or what sort of cookie dough one should use when one is going to do cut-outs with patterns, and that sort of thing. She also, like me, loves to try new recipes, and on a recent trip up to Seattle to visit with her, we took advantage of the fact that we were both in the same place with access to a kitchen, and tried out a couple recipes – chocolate-filled hand pies, and homemade Tagalongs (the chocolate-covered peanut butter-filled cookies one can usually only get from Girl Scouts). It was messy and silly and tasty and a lot of fun and when I got home I got to thinking that if she and I lived closer, we'd likely be getting together on a regular basis to try out recipes and play with butter and sugar and flour.
So a week or so ago I sent my little sister this recipe and said, hey, even though we're not in the same place, maybe we could try doing these together over Google Hangouts. She was game, so we checked our calendars, and today was the day.
The recipe itself is pretty straightforward – you mix up the dough and let it sit for a bit, and then you make the caramel (both of which smelled absolutely delightful while going together), and then you make the cookies themselves. And then the next step is to split an already-thin cookie into two even thinner pieces, while still hot (possibly there was a tiny bit of swearing and uttering of 'ow, ow, ow!' during that process), then dollop a generous amount of caramel in the middle and finally, smoosh the two pieces together, spreading the caramel syrup between them. Then you set those aside to cool and when they are done, you have stroopwafels!
If you happen to have a pizelle maker, which my sister does because she scored it for $10 at a garage sale years ago, then you can smash the dough in there and it will come out nice and thin with gorgeous patterning on both sides. However, if you do not have a pizelle maker (like me), you can jury-rig a dough-smashing system via the clever combination of an electric skillet and a saucepan. Put the dough on the skillet, grease the bottom of the saucepan, and then use that to smash it down into a flat thing. Pro tip – a regular waffle iron doesn't work (I tried) – the divots are too deep and your dough won't smash thin enough.
Here are my finished stroopwafels. I know they look a lot like lopsided pancakes (see above re. 'don't have a pizelle maker'), but trust me, they're actual cookies, with delicious brown sugar maple caramel syrup in the middle, and they are quite, quite yummy.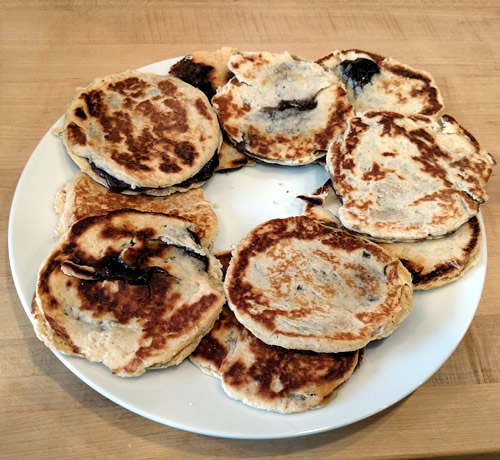 The end result of the whole thing is that we both had a lot of fun, laughing and chatting over the video call, showing each other our dough and our cookies and our caramel, and we have decided we are going to try to do this on regular basis. Because after all, we live in the future now, with webcams and laptops that can be propped up in the kitchen, and living two states away from each other should not be the deterrent to doing something we both love to do, together.