Today is National Pizza Day, which is a lovely thing to happen on any day, because pizza encompasses two of the basic food groups (bread and cheese).
I've made pizza a bazillion times over the years, because as much as I love delivery pizza (especially if they have a garlic sauce), there is something special about making it yourself.
Pizza dough itself is pretty simple – it's just flour, water, yeast, salt, and olive oil. I guess you can stir in other stuff if you want, but I'd rather do all my extras on the top, instead of burying them in the dough. It should be a soft dough, but not sticky (if you do it by weight, you'll likely get a perfect dough every time; if you do it by volume, like most American recipes call for, you'll likely have to make adjustments to the amount of water and/or flour you use, each time you make it). I always make mine in the morning and stash the bowl in the fridge, so it rises slowly over the day.
I'm a pizza purist – plain cheese pizza is always going to be my favorite – but I also do like other toppings from time to time. I've got a pizza stone, which is a lovely way to bake your pie because it provides the best amount of heat to really cook the bottom through, but I also have tiny little individual-sized pizza pans for when there's a crowd over and we need to get a whole pile of pizzas set up quickly, or if we're making up a batch to keep in the freezer for lunches or quick dinners later in the week.
I also make my own sauces, because I can (and often am able to end up using my own canned tomato sauce to start with). I prefer a minimal amount of sauce if it's red, because otherwise the acidity of the tomatoes starts to really take over (and also that way the cheese can really shine, because let's face it, pizza is a really good excuse to eat more cheese. Mmm. Cheese.)
Tonight, since it was just the two of us, we decided to use the pizza stone instead of the tiny little pans, so the pizzas look a bit rustic. I decided to do one with garlic sauce (make a roux, add garlic and cream or milk, cook until thick)…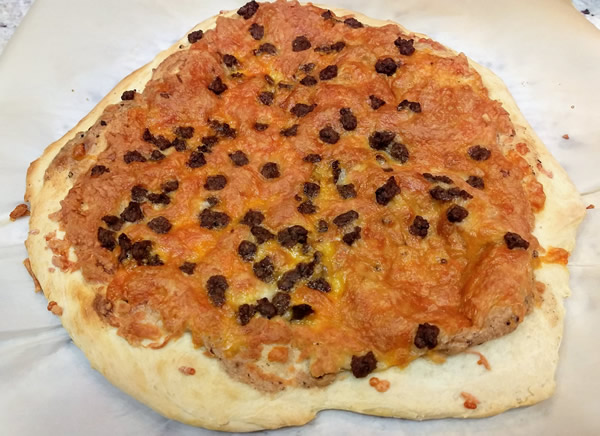 …and one with red sauce (which got a little overcooked, oops, because we weren't paying attention).
Both are topped with exactly the same thing – mozzarella, a sprinkling of cheddar, and some turkey sausage crumbles we had leftover in the freezer. And both were quite, quite delicious.
Also, it turns out leftover orange/peach frozen yogurt goes shockingly well with molasses bars. In case you were wondering.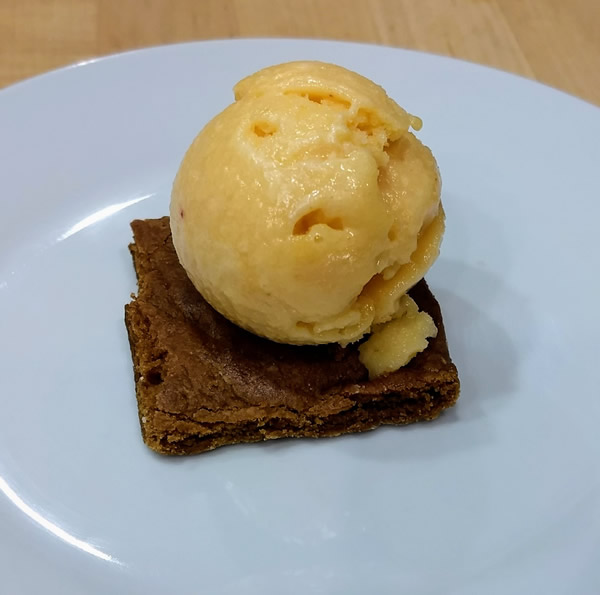 Making a thing a day for Thingadailies.