Today is La Chandeleur, which is a French holiday where they eat crepes (I am sure there's probably a lot more to it than that, but the only part I care about is the crepe part, because yum, crepes!). Today is also National Tater Tot Day, except that I couldn't figure out a way to incorporate tater tots into crepes, nor did I really want to because ew, so actually let's just forget I mentioned the tots. Today is all about the crepe!
I've made crepes lots of times, because they're kind of fun and also tasty. Basically crepe batter is really just pancake batter with extra liquid stirred in, so you could probably make them with any standard pancake recipe, with some minor adjustments (well, any pancake recipe that doesn't include a lot of chunky bits; you are aiming for thin, smooth batter, after all). You don't need a special pan; all you need is a regular frying pan and a non-metal spatula (I use a silicone one – the type you use to scrape down the sides of a bowl) because a metal spatula is more likely to tear your delicate pancakes.
Two things to keep in mind to make a successful crepe are low heat, and oil. The pan needs to be lubricated (nonstick spray works just fine here) and it can't be too hot, because once you pour in the batter, you then need to very quickly tilt the pan around so that the batter spreads out as thinly as possible. Too high a heat, and the batter will cook too fast, so your crepe will end up too thick, or lumpy. The oil is because these things are really delicate, since they're so thin, so you want to prevent them sticking, or else your lovely smooth crepe will turn into a shredded, sad mess.
Crepes are extremely versatile and work just as nicely with savory as well as sweet fillings, so one batch takes care of both dinner and dessert. With that in mind, for dinner tonight, we had crepes stuffed with ham, mushrooms, and swiss cheese.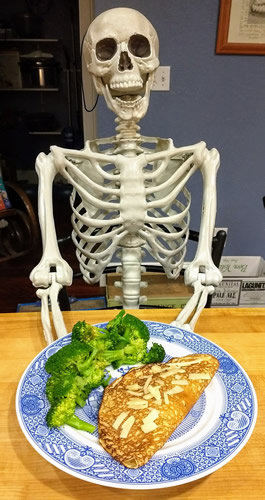 Cornelius M. Peabody, III was quite excited about his. He's a big fan of crepes.
And for dessert, we decided to light things on fire!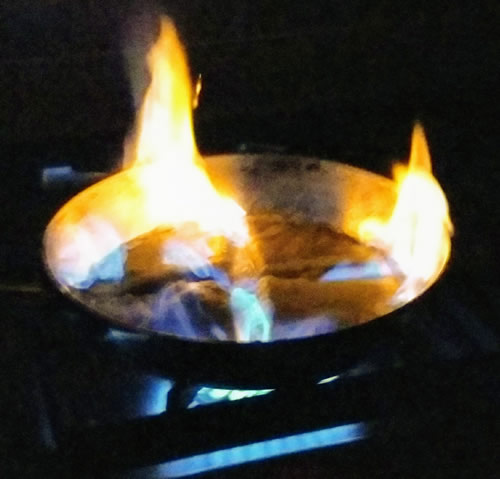 Or in other words, I made Crepes Suzette, which is a fancy way of saying I mixed orange juice, butter, and sugar in a pan until it reduced, and soaked the crepes in that, and then poured some alcohol over the crepes and set it on fire. Which, by the way, is another thing that would have been a whole lot easier to do if I only had a kitchen torch. Ah well.
The crepes were all quite tasty.
The cats were all, as usual, unimpressed.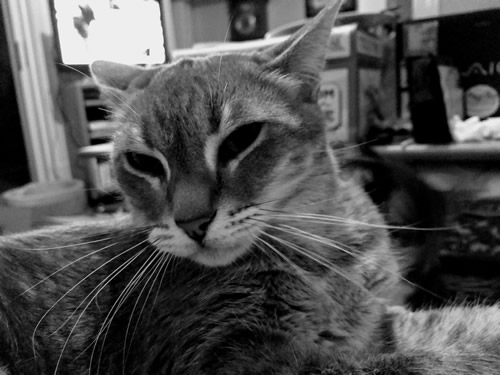 Making a thing a day for Thingadailies.