Why look, it's time for another Baking Sisters adventure! This time, inspired by the fact that one of us stumbled across this Pirozhki recipe, we decided to do a vaguely Russian theme. By which I meant I Googled 'Russian desserts' and looked at what came up.
We both decided to make the pirozhki because those looked super tasty (and it's nice to do something savory once in a while), and we both decided to make Zefir, which is a marshmallow sort of thing, although she made this version, while I decided to go the more traditional route and made these, which start with (no, really, I am not kidding) pureed apples. We both decided we had to make these Shokoladnaia Kartoshka (chocolate potatoes), because how could we pass *that* up? Also, I also made Ptichye Moloko (aka Birds Milk Cake) because it looked delicious, and she made some kind of candy that starts with actual mashed potato, for which I don't have a recipe link but from reports on the other side of the webcam, you really, *really* don't want to know anyway.
I kicked things off by making the dough for the pirozhki because that was going to take the longest in terms of rising, etc. My sister had already made her dough so she got started setting those up while I worked on the sponge layer for the Birds Milk Cake, since that would need to cool before I could add the mousse layer. And next we moved on to our respective zefir recipes.
I only made half a recipe (which is good because it still made a LOT of them), so it started with just one egg white – an amount I discovered is too small for my Kitchen Aid to be able to recognize for beating. So I whisked it up by hand, and then dumped the foam into the bowl with the apple puree and kept on going, and shockingly, despite the fact that there was apple puree, it actually doubled in volume and turned into something light and airy, even after adding the agar agar and sugar syrup, which was itself a bit of a pain to put together.
I….clearly lack piping skills, but I did manage to pipe out some vaguely decoratively shaped lumps all over sheets of parchment paper.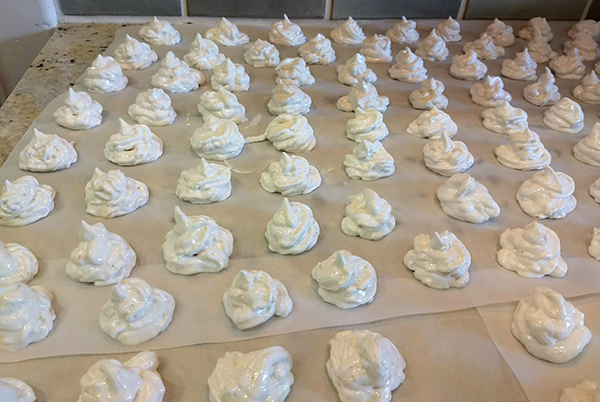 My sister's were much, much prettier, likely due to the fact that they had raspberry jello in them so they were a delicate pink color, and also she's got actual training in pastry and knows how to pipe things that look nice, instead of like random blobs.
Next it was time to make the mousse for the Birds Milk Cake, since by then my sponge had cooled. The mousse is actually what made me want to try this recipe, since it's made with sour cream and sweetened condensed milk. I poured that over the cake and popped it into the fridge to chill and moved on to mixing up the chocolate 'potatoes'.
These were…interesting. They're basically a mix of cocoa, sugar, crushed cookies and nuts, butter, and hey, look, yet more sweetened condensed milk. This all gets mixed together and then formed into roughly potato-shaped lumps, which are then rolled in powdered sugar and cocoa, so that they look vaguely like potatoes.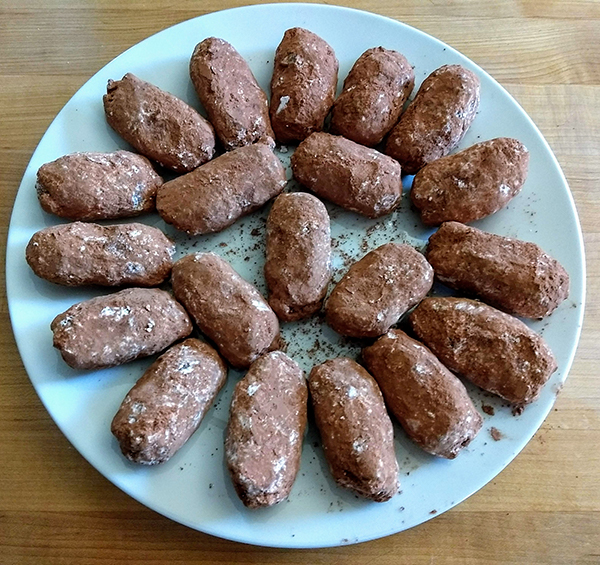 These are tasty, but very, very rich, and if I were to ever make them again (which I probably won't), I'd make them at least half the size the recipe called for (or even smaller).
Once those were all chilling in the fridge, I made the ganache for the top of the Birds Milk Cake, and filled my pirozhki. Then I sat and chatted with my sister via webcam for a while, waiting for the pirozhki to rise, and didn't even think to check on the dough, until it was too late. Clearly these are very, very overproofed.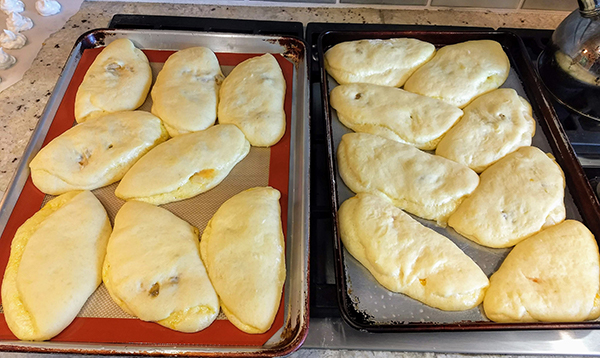 Ah well, they were still tasty! The dough is soft, even after being baked. I had some turkey sausage that needed using up so I used that instead of ground beef for the filling, which added a nice flavor. Aside from the long rise times required, these were pretty simple to put together, so I might try making them again at some point, if only to prove to myself that I can.
As for the other two things, the zefir are…..interesting. The recipe I used said to let them sit for 24 hours, which seemed excessive, except that it turns out they really weren't kidding. At first, they didn't have much flavor except a light sweetneess, and they were super sticky, but after an entire day of sitting, the skin finally dried, and the apple flavor started to come through. The final step was to stick two together and then roll the assembled sweets in powdered sugar, which made them look even more ugly when one has very poor piping skills.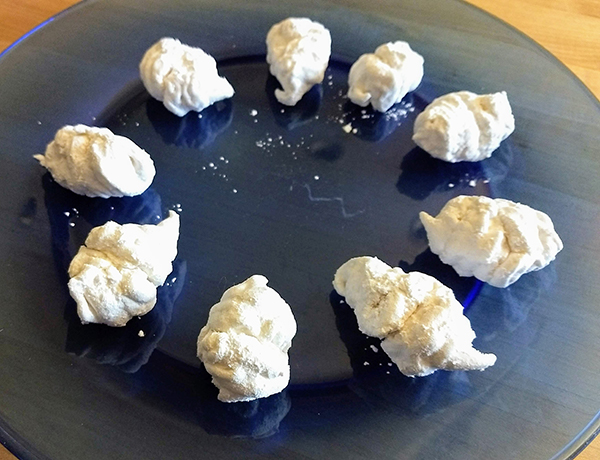 I ate a few – they're sort of like a sweet, apple-flavored puff of air, which I didn't mind, although and we brought them with us to a family gathering later in the weekend and reviews were a bit more mixed. But they were an awful lot of effort for a thing that I'm still not entirely sure I'd want to eat again. As for the version my sister made – they might have been prettier than mine, but they set a bit too firm, to the point where they were more like rubber, and were very unappealing.
Of all four of the things I made for this month, the one we liked the most was the Birds Milk Cake. We had friends over later that day, so they got to be our guinea pigs for the tasting.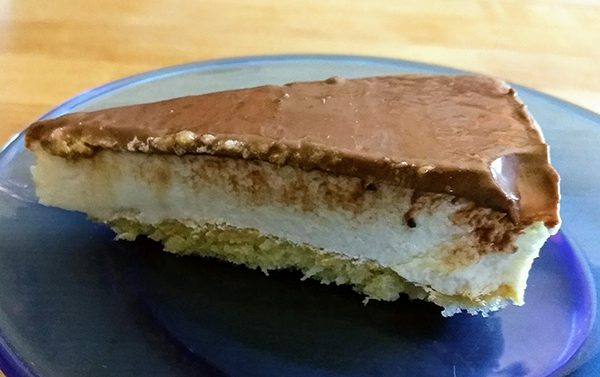 Look at all those pretty layers!
Aside from the one who isn't a fan of sour cream, the rest of us all agreed it was pretty yummy, and this is definitely something I'd make again. Plus, one small slice goes a long way, so guess what we'll be eating for dessert pretty much all the rest of this week.