This is a two-day post because yesterday was super busy, what with the decorating class in the morning and then a full afternoon of gaming. Plus there isn't all that much exciting to say about yesterday's lemon thing, except for its application to today's.
Anyway. Yesterday I took these two ingredients.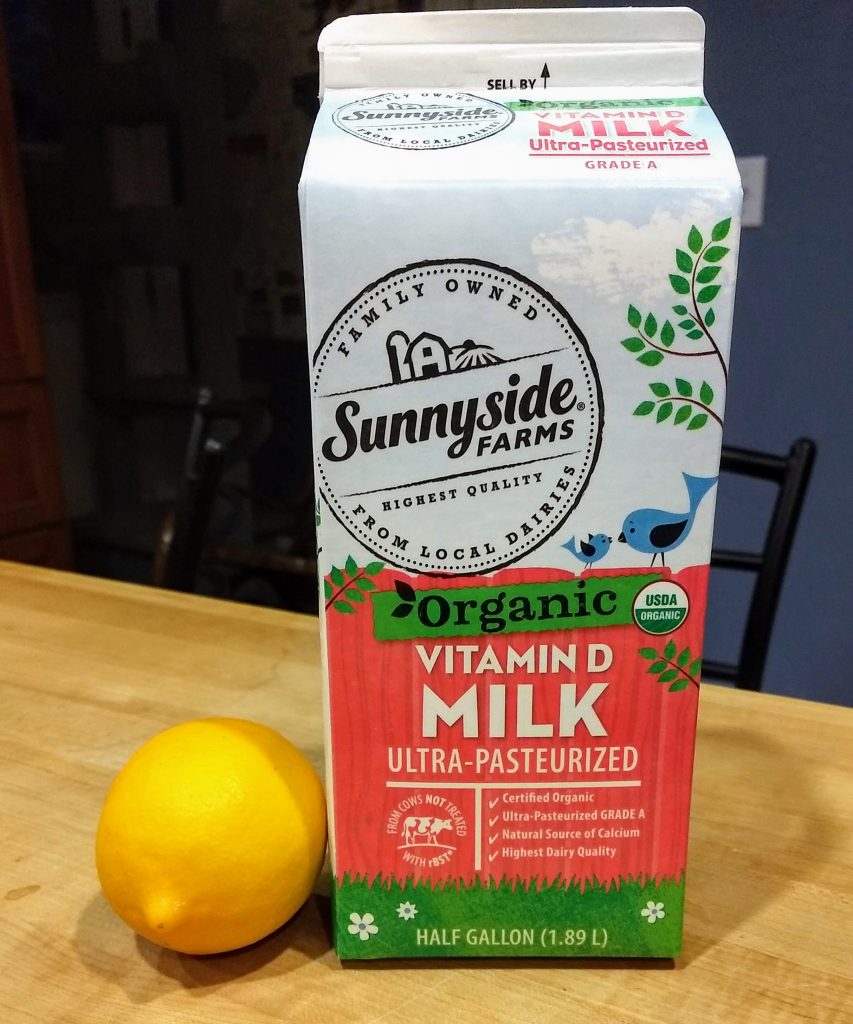 And I turned them into this.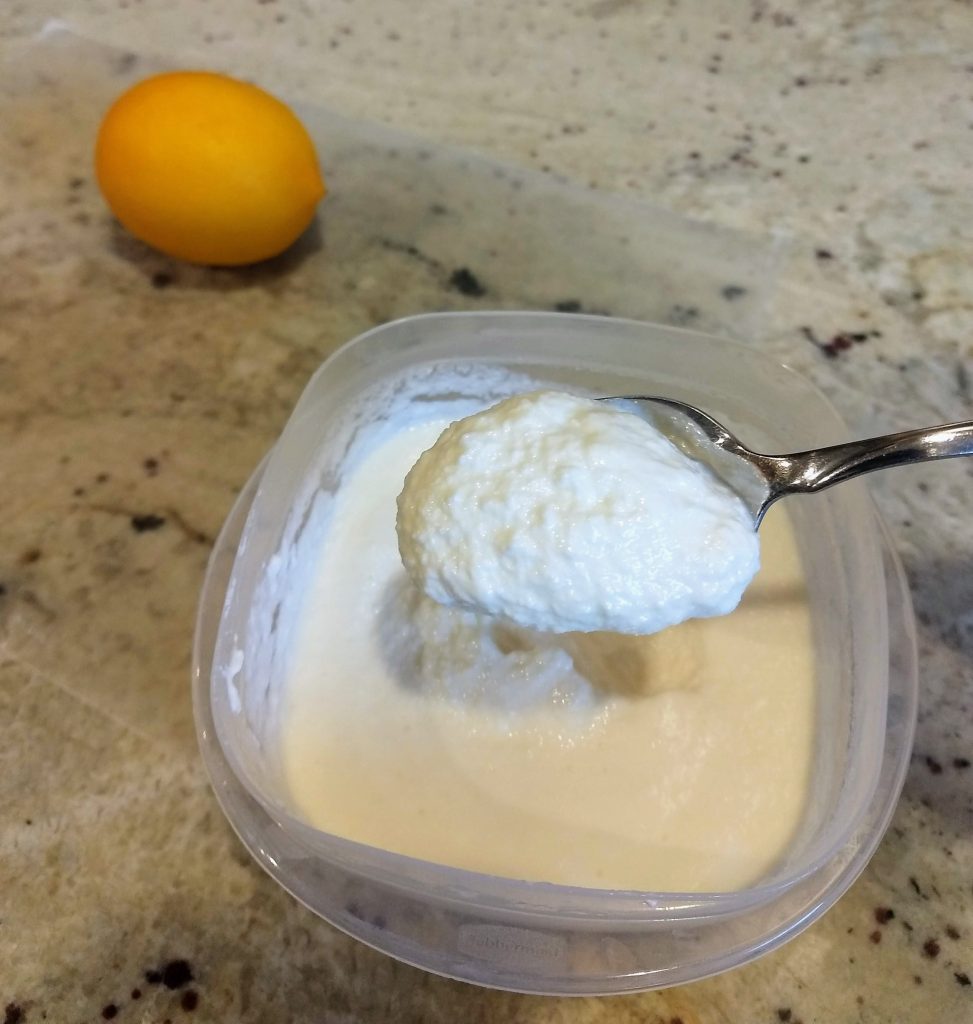 Yup, that's right. I made cheese. Lemon cheese, to be exact. When trawling the internets for ideas for this month I came across this recipe and thought, eh, why not give it a try. So yesterday morning I got up, poured myself some coffee, and then heated up a half gallon of milk to about 180 degrees F. Then I juiced a lemon and stirred that into the milk. Roughly 15 minutes later, I poured the resulting mess into a cheesecloth-lined colander. I jury-rigged up a cheese draining system involving an empty pitcher, some heavy glass jars, and the kitchen faucet, and let that sit for an hour or so while I did my usual morning chores, and when it was all done, I had cheese. Or some loose approximation thereof.
Trust me when I say this sounds more exciting than it actually was. The cheese itself has practically no flavor at all, although the container does smell faintly of lemon after a day in the fridge.
But once one has cheese, one needs to use it in baking things, so since I happened to have a sheet of puff pastry in the freezer that needed using up, I decided to turn the cheese into these Lemon Puff Pastry Packets.
They're pretty simple to throw together. You just mix up the filling, roll out and cut the puff pastry into something vaguely resembling squares, egg wash them, fill them, fold and crimp the edges, toss them into the fridge to chill for half an hour, and then after another egg wash and a sprinkling of sugar on top, pop them into the oven. A short time later, you get these.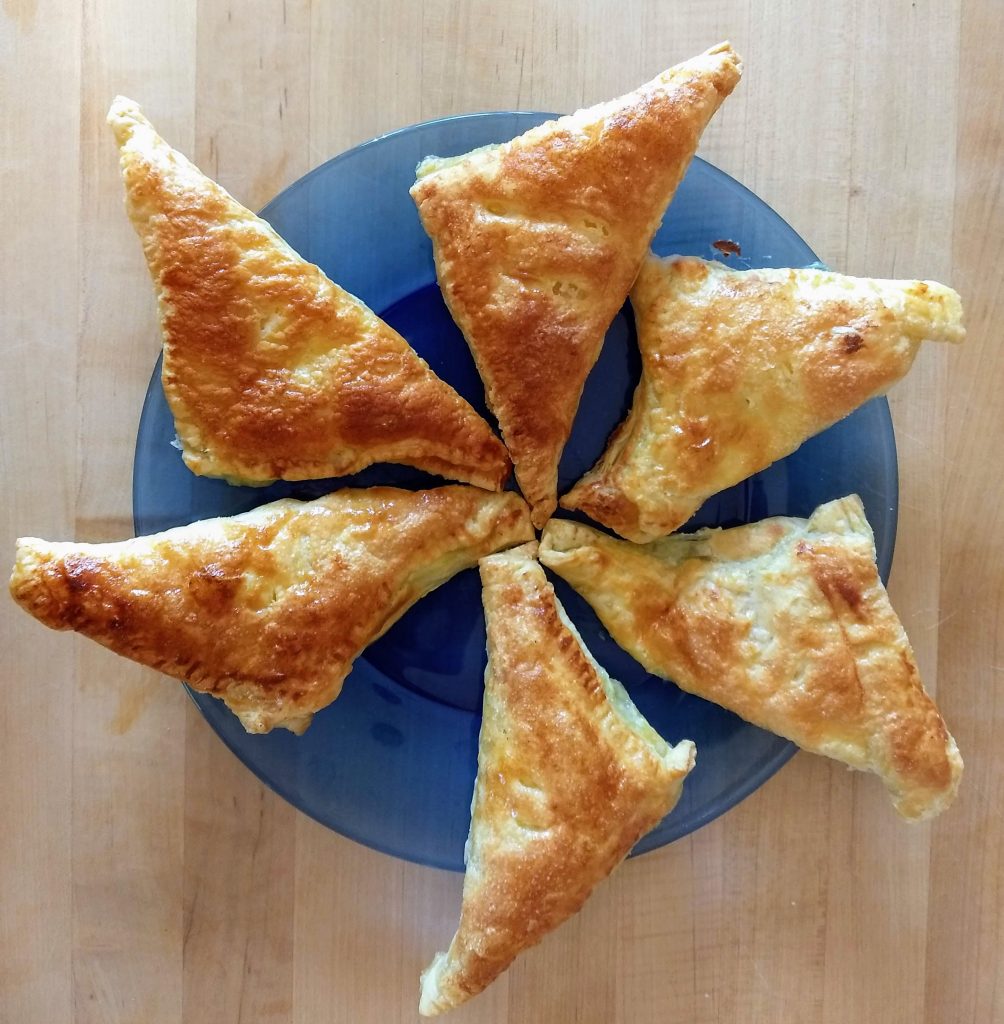 The result was…passable. There's a very faint lemon flavor but only due to the zest and juice added to the filling, and not due to the cheese itself. We both agreed they were lacking *something*.
In the meantime there's yet more bland lemon cheese in the fridge to use up, so expect it to show up in a couple more recipes this month. And I think it's safe to say I won't be bothering to make either of these recipes again.
Lemons used: 2
Total lemons this month: 16 (still so many in the fridge. SO. VERY. MANY.)
Making a lemon thing a day for Thingadailies.