Last night we looked in the fridge and pondered what remained of the Thanksgiving leftovers. Mostly, with the exception of one lone turkey leg, it was veggies – garlic thyme sweet potatoes, garlic butter green beans, mashed potatoes, gravy, and a little stuffing.
I'd already turned a bunch of the mashed potatoes and stuffing into a batch of Black Friday Bread which, by the way, is excellent for making grilled cheese. Another bunch of potatoes and stuffing were turned into potato pancakes, which we've been eating for breakfast, along side scrambled eggs and the cheese of the day. But there was still quite a bit left, and I was determined to use up every bit of the leftovers, one way or the other.
So this evening we made shepherds pie. I diced up an onion and tossed that in a deep skillet along with some mushrooms and leftover celery from the fridge. Then when those were just soft, I tossed in the remaining sweet potatoes and green beans. Normally I'd add some garlic and thyme to the mix, but there was plenty in the leftovers so I figured I didn't need it.
I stirred in a little flour, and then some chicken stock, and poured in the leftover gravy. Once that was bubbling on the stove, I stirred the remaining potatoes and stuffing with a handful of Parmesan and cheddar, then spread that on top of the whole thing. The skillet went into the oven to bake, just long enough for the top to warm up and brown, and then it was done.
Verdict – delicious, and there was just enough potatoes and stuffing left to whip up another batch of the bread. Granted, I did find a little container of cranberry sauce left in the fridge when stashing the remains of the shepherd's pie, but I'm pretty pleased that we managed to use up nearly every single bit of Thanksgiving, without having to just eat it straight from the containers for days on end. Yay!
*****
Today's cheese is a Jarlsburg, which is some kind of swiss.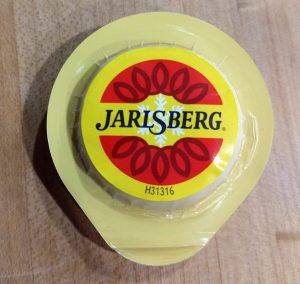 I am not a fan of swiss, unless it's buried inside of something else and had other cheeses to mask it, so Richard got this one entirely to himself.
'Tis the season for Holidailies.