This was supposed to be yesterday's item except I was dithering about what I wanted to make and it turns out, 9:30 at night is not the best time to start a new project when one hopes to finish it before one falls asleep at the needles. So instead I finished it this morning.
After years and years of having super short hair, I've decided to try growing it out again. Fine, except that it's now reached the stage where it's long enough to hang in my face but not long enough to actually pull back in a barrette, and it's been driving me crazy. So naturally I decided to knit my way out of this problem, by making myself a headband.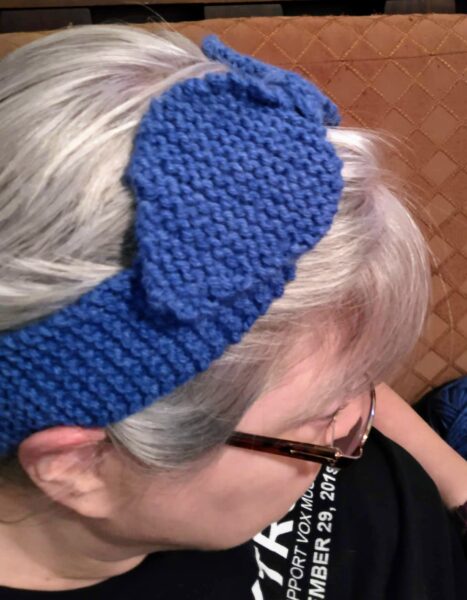 This is the 50's Knotted Headband. It's made with some random acrylic yarn from my stash, and except for some minor shaping, it's basically just a long strip of garter stitch, tied in a knot with some 'bow' shaped flaps at the ends.
I wore it all day today to see how I felt. I like it – a lot – except that it is just a hair on the loose side. However, even with that, it worked great for solving the problem of the shag rug on my head, so there will be more headbands in my future, oh yes.
Making a thing a day for Thingadailies.