Today is December 1, which means it's time for my annual 'Oh yeah, I have a blog!' thing, using Holidailies as an excellent excuse.
Anyway. Hi! Welcome back! And welcome to the 23rd edition of Holidailies, wherein I and a lot of my fellow bloggers dust off our online spaces and do our best to post daily for one whole month.
If you're new, get ready for lots of talk about foster kittens, baking, knitting, some singing (since I'm a member of a local vocal ensemble), and other assorted random things. Like, for instance jigsaw puzzles.
Oh hey, and speaking of puzzles, guess what sort of cool Advent calendar I got for myself this year?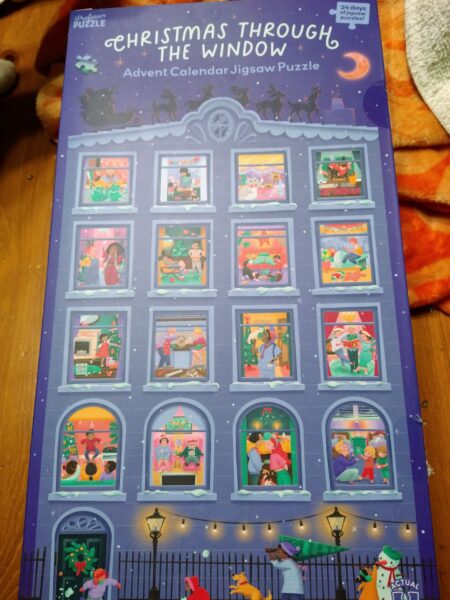 I absolutely love jigsaw puzzles, but in a house with 5 cats plus a revolving door of excitable foster kittens, it's often difficult to find a safe space to work on them, without pieces mysteriously wandering off, or developing tiny puncture holes spaced exactly the width of a mouth full of kitten teeth. But these puzzles are super tiny – only 50 pieces each – so I can put them together with my first cup of coffee and a minimum of feline assistance.
Anyway. Here's a crappy picture of the first day. I swear I'll try to get better shots going forward.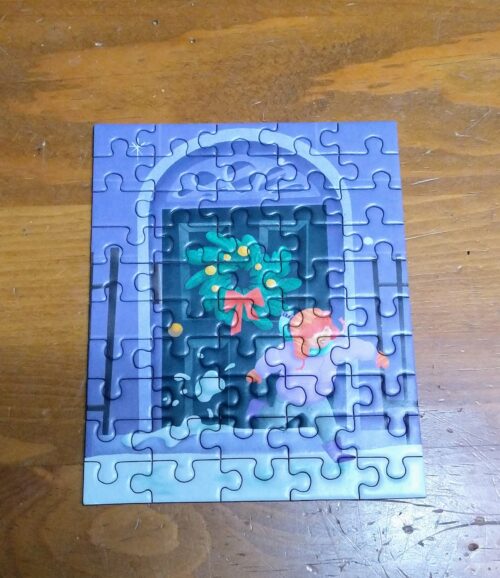 'Tis the season for Holidailies.