Today was Baking Sisters, and since we're still meandering our way alphabetically through the states, this month it was time for Idaho. Or rather, this month it was time for all things potato.
The official pie of the state is Huckleberry pie, but as berries are Not Food (and also huckleberries are both not in season, and nowhere to be found around here anyway), we skipped that one. However, the official cookie of Idaho is the Potato Chip Cookie, and the official sandwich is the Potato Salad Sandwich (no I am not making that up), so clearly we had to give both of those a try.
Oh and also because of my need to use up citrus, plus my recent acquisition of a madeleine pan, we also made Lemon Madeleines.
So this morning shortly after I got up, I zested and juiced some lemons, and then mixed together the madeleine batter and got that into the fridge to chill. Then, once we started our video call, and after we got the potatoes into the pot to boil for the potato salad, I filled my madeleine pan and put that back into the fridge to chill some more.
The recipe for the potato salad includes carrots and eggs (which get boiled in the same pan as the potatoes), and also chopped celery and cubed cooked ham. The dressing was just mayo, salt and pepper, and seemed on first glance that this was going to end up pretty bland, but we pressed on, deciding to follow the recipe exactly. Neither of us thought to halve the recipe because it didn't seem like it was going to make all that much….at least until we started mixing everything together and realizing that no, this makes a TON. Hmm, guess what we'll both be eating now for days!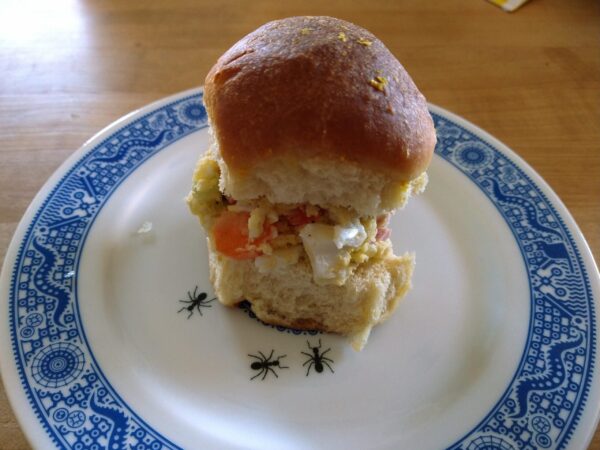 Technically we should have used white bread, but instead Richard and I put a scoop of the salad on some leftover Lemon Buns from yesterday for lunch. It was…okay, although my sister and I were correct in that it is extremely bland and is in desperate need of *something* (she stirred in some pickle relish, and I am thinking that a large dollop of mustard might be needed for mine, but we'll see). I feel like this whole concept might have potential, but possibly not as a sandwich, or at least not without a whole lot of additional help.
As for the potato chip cookies, it's basically an oatmeal cookie with crushed potato chips mixed in. They're a perfectly acceptable cookie, I suppose, and there's that same aftertaste that you get from potato chips (slightly greasy, slightly salty, a hint of something fried), but this isn't a recipe I'm ever going to be wanting to make again.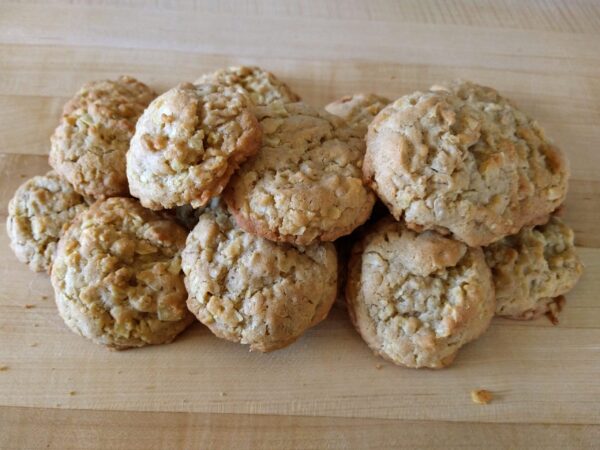 And moving on to the madeleines – well, they puffed up perfectly, they all had the requisite hump, and they tasted fine….but they got a little too brown (they should be a pale golden brown, oops).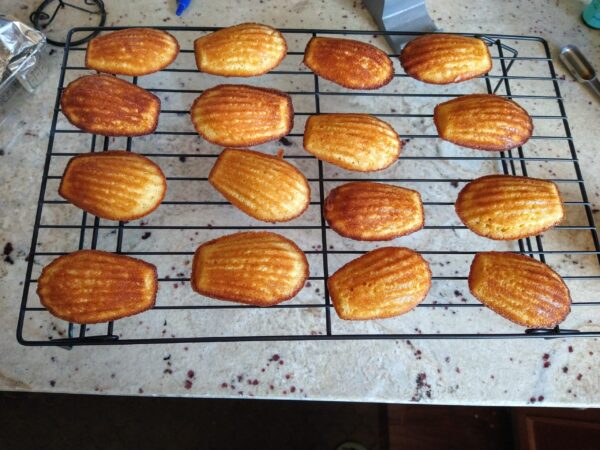 They were fun to make, however (despite the multiple chill times), and since I have this pan, I will definitely be making madeleines again, although perhaps I'll try a different recipe .
Citrus used: 2 lemon
Total citrus used so far: 1 mandarin orange, 10 tangelos, 10 lemons
Making a thing a day for Thingadailies.