Today, according to the days-of-the-year calendar I found when I was, once again, scrambling to throw together enough prompts for Holidailies for the whole month of December, is Cookie Day. I have no idea who designated it Cookie Day, but hey, I'm not going to fuss. This is a yearly event I think we all can stand behind. Especially based on the nifty little present Richard's mom got for him and his two sisters this past weekend.
She says, when she saw this in the store, that she thought immediately of her children. I cannot imagine why.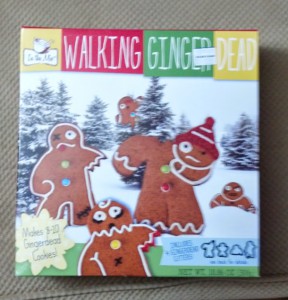 Okay, maybe I can imagine why. Just a teensy weensy bit.
Anyway. In honor of it being Cookie Day, we decided to make ourselves a tiny little army of Walking Gingerdead cookies. The first thing I noticed, upon turning the box over to read the instructions, is the chirpy, happy little box of text at the top of the box (click the picture to make it larger). Clearly this is something they probably put on every single box of cookie mix, but it seemed a wee bit more amusing considering that we were about to whip up some zombies.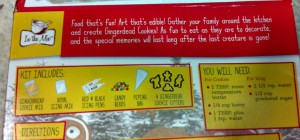 We mixed up the dough and rolled them out and tossed them into the oven to bake. Then later, once they had cooled sufficiently, we decorated them. Or perhaps I should say we tried to decorate them. Let's just say that there's a reason neither of us has ever attempted a career in the bakery arts.
So here are our Walking Gingerdead cookies. The 3 in the middle are from a regular gingerbread man cookie cutter. When one has a zombie horde, it is crucial that one also provide them with victims.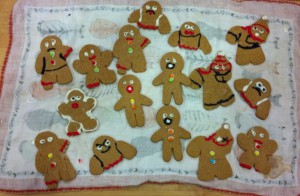 Shortly after this picture was taken, two of the zombies were promptly eaten. Because even gingerbread victims need to have a fighting chance when faced with the gingerdead.
'Tis the season for Holidailies!