Today's dishcloth is the Magic Stripe hot pad. Which yes, I realize isn't technically a dishcloth, but as I noted on the first day, my challenge, my rules, and since the whole point is to try to use up as much of my cotton stash as possible, I declare this a win.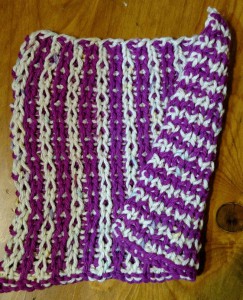 I folded it for the picture so you can see why it's called 'magic stripe' – through the clever combination of slipped stitches and 1×1 ribbing, you get stripes of color that go horizontally on one side, and vertically on the other.
Bonus – this used up the remnants of two tiny little balls of cotton. Definitely a win.