So this weekend was not all just about watching Harry Potter and knitting dishcloths. It was also the weekend of the annual Free Museum Day.
I cannot actually recall if we have ever taken advantage of this in the past, although I suspect that that is why we visited the California History Museum a number of years ago. Most of the time, however, I would likely have avoided these things like the plague because 'free' means that they'd be super crazy crowded and overloaded with screaming children. But then I checked out the list of participating museums and one in particular caught my eye – one that I knew would not be attracting the hordes of screaming children (or hordes in general): the Museum of Medical History.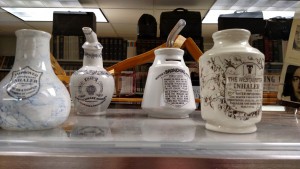 First off, we had no idea such a place even existed. I suspect because it lurks inside a building with next to no signage on it, and also because its normal hours are only on week days, during regular working hours, so it's not exactly accessible to the working public. But for Free Museum Day they planned to actually be open on a weekend, plus there would be docents there to ask questions, so off we went to check it out.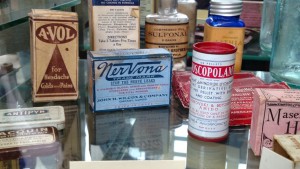 It was not the easiest place to find (see above for 'lack of noticeable signage') but it is really worth tracking down. This place is really, really amazing. They've got all sorts of collections ranging from pill bottles to old medical equipment. Some of the items made us cringe imagining someone having it used on them, but at the time it was all they had, and I guess it was better than dying. It was absolutely fantastic to wander through, peering through glass cabinets and being able to ask the docents about things and have them explain just what the heck that weird contraption had been used for.
I know that, a hundred years from now, people will look back on some of our current medical devices and cringe, thinking of how barbaric they seemed. But wandering through the museum, it is amazing what people were able to come up with, even in the face of incredible odds and without having access to the knowledge and technology that we have today.
*****
Today's dishcloth was chosen purely because the name amused me. This is Squidge Cloth, so named because apparently it is….squidgy? I have no idea. It's a simple, reversible pattern, which is really all I cared about, and it looks decent even *with* the variegated yarn.