Even though today was a day off, I got up bright and early anyway, packed up a bunch of yarn and needles, bookmarked a bunch of patterns, and then headed off to Vacaville to meet up with some friends. From there we continued on down to Santa Clara, to attend Stitches West.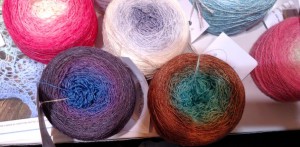 I had two goals for Stitches this year. The first was to check out Apple Tree Knits, to which I'd been only recently introduced via a friend. I normally shun variegated yarn for lace projects, but Apple Tree has incredibly gorgeous colorways that are actually extremely long color shifts, all in one single skein. I stood in that booth for a very long time, dithering between different colorways, narrowing it down to two, and then finally giving up and just getting both. I am glad I went first thing, as another member of our group waited until the afternoon and said the shelves were looking a bit bare. I would not be surprised if she sells out of her stock entirely – the yarn is stunning.
Next on my list of things to find was a just-released new thing from Skacel – yarn that changes color in UV light. I caught site of a little basket of it at the StevenBe booth, tucked off onto one corner of a table, and immediately dug around until I found a skein of the purple. Throughout the day, we all kept discussing the yarn, and other people would hear us, and then we would point them toward that booth, and back they'd come a little while later clutching one or more skeins in their hands and grinning excitedly. It's a novelty yarn, to be sure, but it's really neat and I suspect Ravelry is going to explode soon with a lot of projects using this new yarn.
Our group has, over the years, learned that the best way to deal with Stitches is to immediately colonize a table in the far back, so that everyone has somewhere to sit and knit, or to eat lunch, or to just relax before wandering off to do more exploring or shopping. Sometimes we've had to come up with a schedule for who's on table duty, but usually there's at least one person there at any time throughout the day. So after I scored the yarn I specifically wanted to buy and did a quick pass through the rest of the market (only detouring once for more yarn because I am weak in the face of sock yarn, and oh *my* does 2 Guys Yarn have an incredible selection), I spent quite a bit of time just hanging out at 'our' table, knitting or chatting, or checking out the interesting handmade items that other people were sporting. Later on in the day several of us also made a quick pilgrimage to The Mannings booth because they sell awesome and useful accessories.
I haven't been a couple years, due to either being out of the country (Nerd Boat) or other commitments, so it was a lot of fun to be able to finally get there again. Plus I got to hang out with some people I haven't actually seen in over a year, so that made the day even better.
*****
Today's dishcloth was made using the whelk stitch. It makes a pretty thick fabric, so I suspect this one will be especially good for scrubbing…something.