Somehow it is nearly Halloween, a fact which didn't quite hit me until a day or two ago. Yes, yes, people have been decorating their yards with various graveyard paraphernalia, and giant spiders have been popping up all over the place, and there are pumpkins everywhere we go, but still, wow. Almost Halloween. Where did October go?
Halloween means parties – the neighborhood one, and then the ones at work – and parties means I have to come up with some kind of appropriately themed food. In years past we've done Litter Box Cake for Richard's work party, but it's kind of a pain to make and one recipe makes a LOT of cake, so we always have a ton of it leftover. I've also done 'finger' cookies (cute and tasty) and cat poop cookies (disturbingly realistic, and not really tasty enough for the effort) and so on, but this year I was pondering ideas and then remembered that I now possessed a set of food color pens, and then I figured out immediately what I was going to make: Monster Eyes.
I started with a basic almond cookie. I have been making almond cookies for years and years (it's something my mom used to make). If you do a Google search for 'Chinese almond cookie' you'll find a bazillion versions of the recipe so I'm not going to bother posting all the details here (although if you really want to know, I used this recipe primarily because the recipe I normally use uses shortening and I didn't have any in the house). Also, although most of the recipes online don't call for it, I rolled the dough into logs and tossed them into the fridge to chill for a couple hours, because it is then *so* much easier to slice them evenly so you end up with exactly the number of cookies you need.
Usually I do not bother to use blanched almonds because we pretty much always have a giant bag of raw almonds in the freezer (handy for baking / snacking), but if one is to decorate cookies, one needs blanched almonds. After consulting Google (all hail Google), I discovered that it is stupidly easy to blanch almonds yourself, so armed with 120 almonds (because yes, that's how many cookies I churned out in one day – three dozen per party, plus a couple extra for….uh…quality control testing), and some boiling water, and two huge batches of cookie dough, I baked up a huge batch of Monster Eyes.
I am quite pleased with how they turned out. Decorating them was extremely simple (which is good because my artistic skills when it comes to food decorating are pretty much nonexistent), and consisted of waiting for the cookies to cool and then drawing a little black oval 'pupil' onto the middle of the almond. Poof. Monster Eye.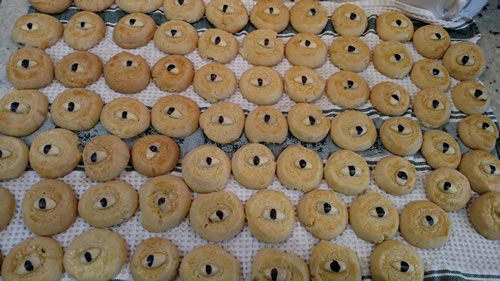 In retrospect, I could have really had fun and stirred in some food coloring, but I didn't actually think about that until after the third batch was in the oven, so ah well, maybe next time.
Posting for Horrordailies. Boo.