September 29, 20–
Dear Paisley,
It was so great to talk to you yesterday. The new job sounds fantastic; definitely a better use of your skills than your previous employer. I'm looking forward to hearing more about it as you settle in.
Edward's settling his new job as well – I think I told you that he recently took a position with Global Chemicor. It's all hush hush work of course; isn't that always the way with corporate research? He seems happy with the new position, although I do wish he weren't working quite so many hours per day, but I suppose that's what comes with the higher level of authority in the company. .
Halloween is coming and I'm having so much fun getting the house ready. I am putting out the usual silly ghosts and pumpkins and such. Edward, the dear, brought home this horrid spider and gave it to me with such an excited look on his face that I didn't have the heart to remind him that I really cannot stand spiders. Look at this thing – it's ridiculous. But I suppose it's the thought that counts. Maybe if I just tuck it off to one side on the porch no one will notice it. Mitzy, by the way, absolutely hates the thing – she barks and barks at it every time she catches sight of it, and has tried several times to tear it to bits. I admit I'd be tempted to let her, except that Edward really seems to adore the wretched thing.
Your friend,
Millie
********
October 3rd, 20–
Dear Paisley,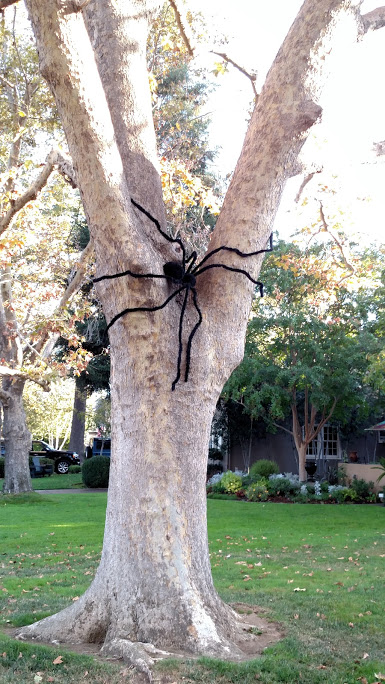 It was lovely to see you and Roger yesterday – feels like it's been far too long since we were able to meet for lunch and chat in person. I'm sorry Edward couldn't make it; this new job has really started to consume every single moment of his time. The only time I ever see him is at night, when he's in bed, and even then he's mumbling in his sleep about the strangest things.
I'm so glad your girls liked the nut bread. I've been doing a lot of baking; now that Hemworth and Bertram are off to college, I feel as if I've too much time on my hands. And it doesn't help that Edward's barely ever home.
Remember that horrid spider I told you Edward brought me a few weeks ago? It seems like everywhere I go they're selling these things. I know it's Halloween season, but really, there's more to Halloween than giant spiders. I was looking for orange and black crepe paper for the party and I couldn't find it anywhere; but apparently if I was willing to decorate with tacky plastic spiders, I'd be all set. Ugh. I mean, look at this. Does no one have any other way of decorating?
Anyway, I am off to meet up with my friend Cecily. She has three darling little Corgis, and they and Mitzy all get along so well that we've been going on walks together around the neighborhood. She hates those spiders too.
Your friend,
Millie
********
October 13, 20–
Dear Paisley,
I see from the pictures you sent that the spider craze isn't just here. Just the other morning I was out walking and nearly every other house has at least one or two of the horrid things hung in a tree, or perched on a wall. What ever happened to the decorating classics? Some nice tombstones, or skeletons or even just an array of tastefully decorated pumpkins? But no, nearly every house is festooned with spiders. It has become something of a nightmare, taking little Mitzy for her daily walks. She lunges at barks at every single spider she sees.
Paisley, I have to admit, I'm starting to worry about Edward. He's looking awfully pale the past few days, and at night he talks in his sleep, something about sphingomyelinase, or some such nonsense. I've asked him about it but he just tells me it's nothing, and then rushes off to the lab. I'm beginning to think that perhaps transferring to Global Chemicor was a bad idea.
your friend,
Millie
********
October 20, 20–
Dear Paisley,
Thank you so much for your phone call and flowers. I am sure that when Edward awakes he will greatly enjoy them. I am not sure, however, when that might be; the doctors seem a bit baffled. I am still in a bit of shock about the whole situation. Global Chemicor hasn't been very forthcoming on details; all I know is that he collapsed at the lab, and they did not even bother to inform me until hours later when he was at the hospital. You can be sure that when Edward recovers, we will be having a hard talk about him finding a new job.
Meanwhile every time I turn around there are more of those wretched spiders. This was in Cecily's front yard yesterday morning, which surprised me because it wasn't that long ago she was telling me just how much she hated them. I'm getting a bit worried about her because she asked me to meet her yesterday but she didn't answer the door and I haven't heard from her at all.
You know I love Halloween, but I admit this year I cannot wait for it to be over. With Edward in the hospital, I am home alone, and I just keep getting this sensation that I am being watched. I woke up the other night and could swear I heard skittering, but when I turned on the light there was nothing there. Mitzy was growling at the walls though, so perhaps there are mice. Oh, I wish Edward was here!
your friend,
Millie
********
October 31, 20–
Dear Paisley,
I pray you receive this before it's too late. I did try to call but the phone lines appear to be down, and I dare not go outside because, well, I suspect you already know.
They're everywhere. I'm not sure what they were doing at Global Chemicor, but clearly things got out of control. I took this picture out my front window, before I nailed boards across it. I am doing my best to block every entrance. I suggest you do the same.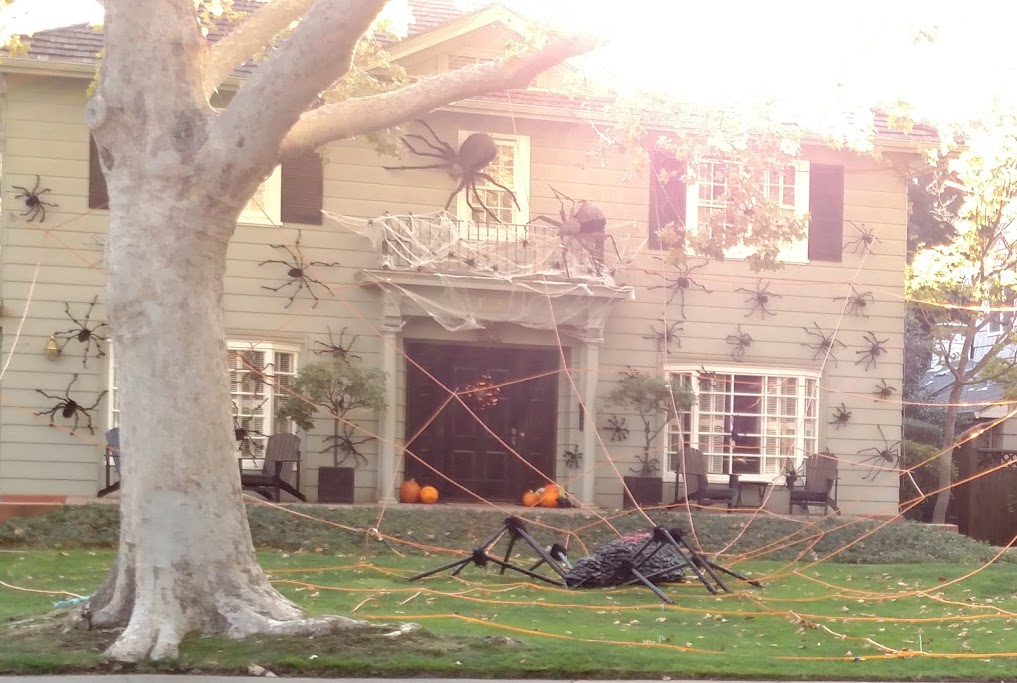 I have already killed too many of them to count. Turns out I'm pretty good with a butcher knife, and Mitzy is a terrier, so she's really coming into her own. But there are far too many of them out there, and they just keep on coming.
There is skittering in the attic, and screaming outside, so I had better close for now. Stay safe,
all my love,
Millie