Today's snowflake introduces a new-to-me stitch: clusters. There were a LOT of clusters, which translates to "bigger lumps than picots", in case you were wondering and I am sure you were.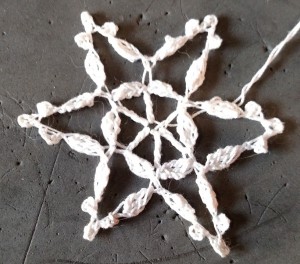 This one turned out pretty good except for my poor blocking skills which resulted in one point being slightly shorter than the others.
I think at this point it is safe to say that any dreams of quitting my job and transitioning to a lucrative career crocheting snowflakes for fame and fortune may not come to fruition….
Making a snowflake a day for Thingadailies.