Relevant to some of your interests: did you know that there is a website where, if you enter in your zip code, a list of all the places Girl Scouts are selling cookies will pop up?
I entered in our zip code and it turns out that later this week, there will be cookies for sale at the local ice cream place that's walking distance from our house.
GOSH AND SOMEONE HAS A 10K STEP CHALLENGE GOING ON WHATEVER SHALL I DO?
Ahem. Anyway. Back to what you're coming here for. Here is today's snowflake. A refreshing two-row pattern, after yesterday's 8 rows that went painfully wrong halfway through.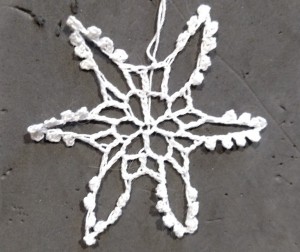 At this point in my little challenge, I think it's safe to say that I have just given up and thoroughly embraced the wobbly point.
Also if you look closely (click picture to embiggen), you might notice there's cat hair under this snowflake. Gee, I wonder how *that* got there, Ingrid.
Making a snowflake a day for Thingadailies.