Today is, among many other things, National Strawberry Day, National Polar Bear Day, and yet another National Pancake Day (there are so very many of them!). However, I decided I really didn't want to do yet more pancakes or pancake-type items for this challenge, plus I do not like berries (no, I am not kidding, yes, I have tried all of them many times and I don't like *any* of them), and we live in the wrong place for polar bears. Luckily today is also National Kahlua Day. So I decided to celebrate that by making some ice cream. Because when *isn't* it a good time for ice cream?
Years and years ago, Ben & Jerry's brought out a Dublin Mudslide ice cream, which had a delicious mix of Kahlua, Irish Cream, and chocolate all swirled inside, much like the drink by the same name. I loved it, but as is often the case, they eventually stopped carrying it, and also there are no more Ben & Jerry's stores anywhere near us, so even if they brought it back, there's no way for me to know. So I haven't had that in a very long time.
However, that was before I picked my challenge for this Thingadailies month. I asked Google what it could do for me, and Google very nicely supplied this recipe. Conveniently, we have both Kahlua and Irish Cream in the fridge (the remains of the single batch of each that I make every winter), so this morning I whipped some heavy cream in the stand mixer, and then folded in some sweetened condensed milk, and some chopped up chocolate, and a couple tablespoons each of the Kahlua and the Irish Cream. Then that got poured into a container and stashed in the freezer, because this is a no-churn recipe.
Ice cream is good, but it's even better if it's alongside something else. Plus I still had some Kahlua and some Irish Cream that needed using up. So I cast out my question to the internets, and lo, the Googles, they did offer back this recipe. And thus it was that I made both ice cream and cake for the occasion.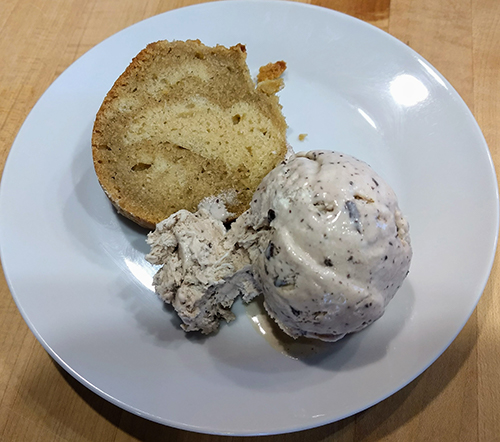 The ice cream is a bit on the sweet side – I think if i were to make this again, I'd use a bittersweet chocolate to help counteract that. The cake, however, is delicious and moist. Trust the recipe – I know the batter looks super thin after you stir in the Kahlua, but it totally works. Also I may or may not have used Irish Cream instead of the milk in order to use that all up. And also we may or may not have had this for dinner instead of the not-very-exciting leftover clam chowder from yesterday as planned.
Making a thing a day for Thingadailies.