Do you know what today is? It is February 28th! That means it's the last day of Thingadailies.
We started the month with chocolate, in the form of baked Alaska, so I suppose it's only fitting that we end the month with chocolate as well. Conveniently, today is National Chocolate Souffle Day. I hope you all pulled out the whisks and celebrated appropriately.
Souffle is one of those fussy sort of recipes that I've tried in the past (in both sweet and savory forms) with varying levels of success. If you're not careful, you end up with something that tastes overly eggy, or lumpy with bits of cooked egg. It's also not a food that I get excited about in general, so it's not like I've spent much time trying to perfect it. Nevertheless, I figured I'd give it a shot. Considering that chocolate souffles were a Technical Challenge on one season of Great British Bake-off, I went into this with a bit of trepidation.
I used this recipe. It calls for two six-ounce souffle dishes but we're not that fancy around here, so I used two tiny little Pyrex bowls that are 5 ounces each, and hoped for the best.
It's a recipe with several fiddly steps – melting chocolate and then stirring in butter, whipping egg whites, and then carefully combining the two mixtures together in such a way that you minimize the loss of any volume you just whipped into the egg whites. The dishes are buttered and then sugared, and then filled to the brim, and then they get stuck into the oven on the lowest rack for fifteen minutes.
We kept careful watch on the oven as the souffles cooked and both of us gave a little cheer when it started to puff up over the sides of the bowl. When the timer went off I pulled them out, and then hurriedly poured the creme anglais over the top so I could take a picture.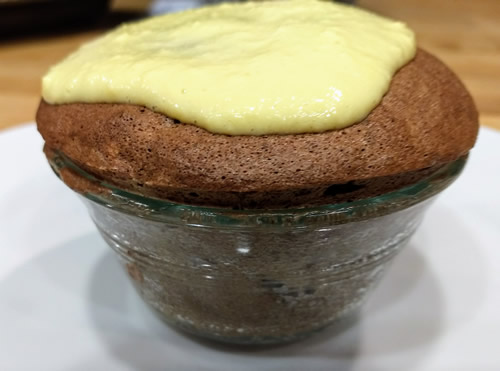 It's not very impressive-looking, I know, but it turned out really, really well. Shockingly, I managed to make two perfect little souffles. The inside was smooth and literally just melted in the mouth, with no little bits of egg, or graininess from the chocolate. I even managed to do justice to the creme anglaise, which was smooth and sweet and a nice accompaniment to the chocolate.
Definitely nice to end this year's Thingadailies on a high note.