A while back, we decided that, being nerds and all, that we would get ourselves a wireless bathroom scale – the sort which syncs itself to our Fitbit accounts, and lets us track things online. Each of us set up our profile, so that when we step onto the scale, it knows who we are, and then stores that weight into the appropriate account. However, if someone it doesn't recognize steps onto the scale, then it records the weight under the name 'Guest'.
The other day, I was going through the list of weights to make sure it had assigned everything appropriately (sometimes it doesn't) and I noticed a series of Guest weigh-ins. What was odd about these, however, is that they were all pretty consistently for someone about 11 and a half pounds.
So…in other words, apparently at least one of the cats has been hanging out on the scale, and it's been dutifully capturing the weight each time. Based on who insists on being in the bathroom with us any time one of us is using the facilities, I'm going to guess it's one of the grey boys (Sherman and Rupert both weigh roughly the same).
* * * * *
In other news, hey, look, I made another pair of socks. The pattern is Lorentz, which I picked firstly because of the interesting texture pattern, and secondly because it's yet another version of a toe-up sock that, unlike the others I've tried, actually seems to account for the fact that one's foot tends to widen around the ankle, and one's sock should reflect that.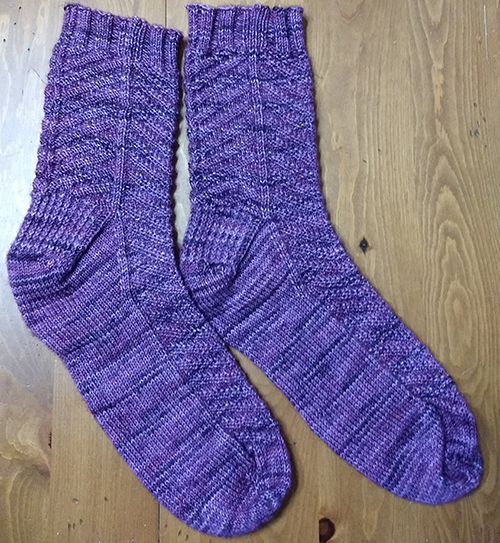 Despite my best efforts I couldn't get a picture that shows the texture clearly, so click the pattern link above to see what they really look like.
(Oh, and by the way, I can now share two more pairs of socks I've made – as test knits – since the patterns have been released. Both of these were done in November of last year.
Transversal socks – I really like the texture patterning on these.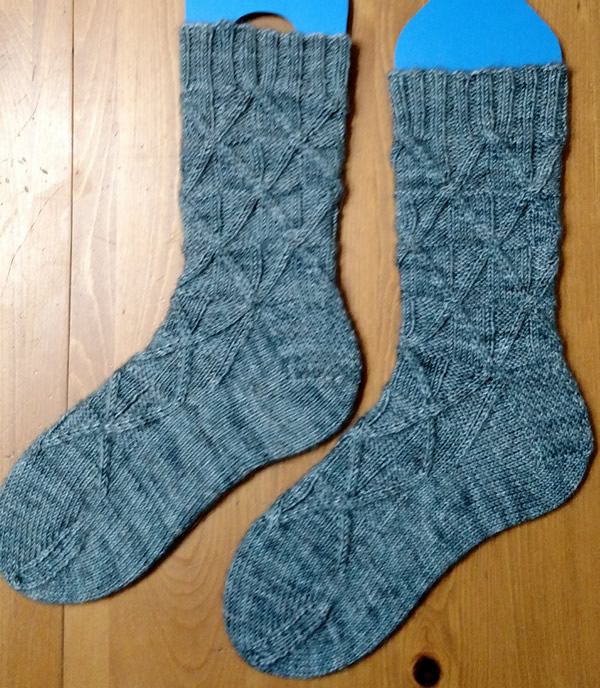 Swirl Sampler Socks – these incorporate lace and texture, and are mirror images of each other.