Oh that's right, I have this here blog I keep forgetting to update. There's been a lot going on the last several months, and I will get to it all eventually – likely as blog fodder for the annual December post blitz that is Holidailies, but for now, let's just talk about meringues.
October's theme for #BakingSisters was meringues, although technically it ought to have been 'playing with egg whites' since of two things we made, one of them wasn't actually a meringue at all, but whatever, the point is, this month's baking session / video chat was filled with a lot of 'I'm going to mute because this stuff has to be whipped at top speed for a long while and we won't be able to chat over it anyway'.
We've done things involving meringue before, of course – there's oodles of ways to use them (this absolutely amazing multi-layered cake that I still can't pronounce had a layer of soft, chewy meringue, and this one had a layer of meringue mixed with crushed peanuts), but this time we decided to make meringue the primary focus.
My sister made meringue bones, which she used to create a Graveyard Cake, but since Richard and I were going to be heading down to the in-laws' house for a very early Thanksgiving dinner later that day, I decided to go with something a bit more suited to that, so I made chocolate-bottomed pavlovas with pumpkin chiffon.
Here's where I note (likely again, since I'd be shocked if I hadn't said this before at *some* point on this blog) that while I like pumpkin in things like bread or scones, and I adore the combination of the 'pumpkin pie' spices, I cannot stand pumpkin pie itself – the texture of the filling is just (to me) absolutely revolting. So I am always keen to find some other pumpkin-type dessert that might fulfill that pumpkin pie need, yet not gross me out.
The recipe, while time consuming, because that is the way of meringue, was actually pretty easy. First you whip up your egg whites with some sugar and a little vinegar to help stabilize them, and then you scoop them out onto a cookie sheet. The recipe said to make 8 pavlovas, but I decided to make smaller ones, so I ended up with twice that.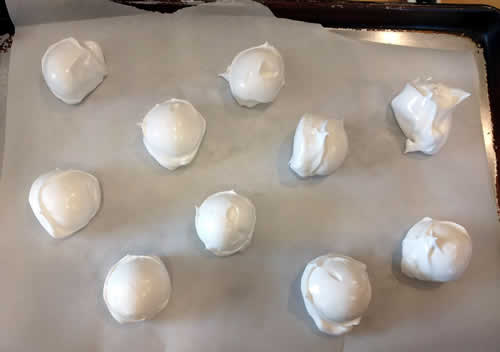 Then with the back of a spoon you create a little cup inside each, since you need a place for the filling to sit.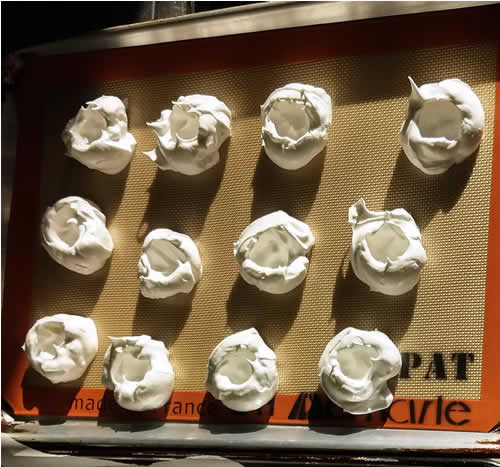 And then those go into the oven for an hour on very low heat to bake, plus after they're done baking, you leave them in the oven and turn it off and give them another half hour to cool.
This gave us plenty of time to do other things while waiting for the meringues to bake. I whipped up the pumpkin chiffon, which is nothing more than some pureed pumpkin with spices, folded into whipped cream, and I also made a batch of these scones to use up the rest of the pumpkin, and all the egg yolks left over from making the meringue, because one should never waste the remains of a can of perfectly good pumpkin puree, and what else was I going to do with those yolks? I added 1 cup of cinnamon chips and 1 cup of finely chopped crystallized ginger to the mix, because I crystallized a pound of ginger a while back (it's shockingly easy to do as long as you've got an hour or so to babysit a pot of caramel and minced ginger root), and have been eagerly finding ways to use it up ever since.
While I was doing the scones, my sister was making the cake part of her graveyard cake. And then since we still had time on our hands while waiting for the meringues, we also made marshmallow fluff.
For these, you need a candy thermometer because, since you're not baking the egg whites, you need some way to cook them, so you use extremely hot sugar syrup instead. You have to bring your syrup to exactly the right temperature first, without letting it burn, meanwhile whipping up a bunch of egg whites into soft peaks. Then, when the syrup reaches the right temperature you slowly pour it into the bowl while still whipping the egg whites, and then it's just a waiting game as you keep on whipping the whole concoction until the resulting mix is smooth and glossy and looks exactly like marshmallow goo. This takes longer than you think it might, but you just have to be patient.
I was originally going to make just plain fluff, but as I was sitting there, waiting for the stuff to finish mixing, I idly glanced at the bottom of the recipe, where it had some suggestions for ways to flavor your fluff, and I thought wait, what? Flavored marshmallow fluff? This is brilliant! So right near the end of the final whipping stage, I added in half a cup of cocoa powder, and voila, chocolate marshmallow fluff was born.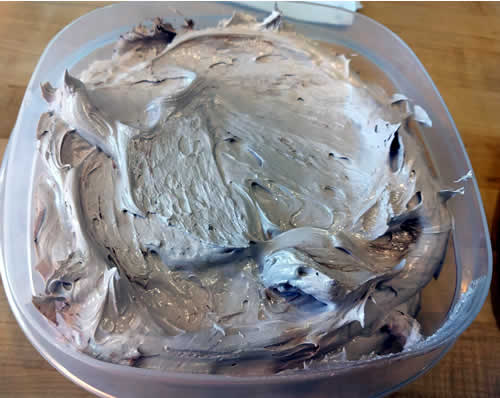 It is delightful when consumed just off a spoon, but if you have ever had fluffernut sandwiches (peanut butter and marshmallow fluff together), I am here to tell you that fluffernut sandwiches made with *chocolate* marshmallow fluff are even better. And if you make them on thinly sliced homemade whole wheat bread, you can pretend that it's almost healthy (cough cough).
But anyway, back to those meringues! After my little pavlova cups had cooled, the final step was to melt some chocolate and paint the bottom of each cup.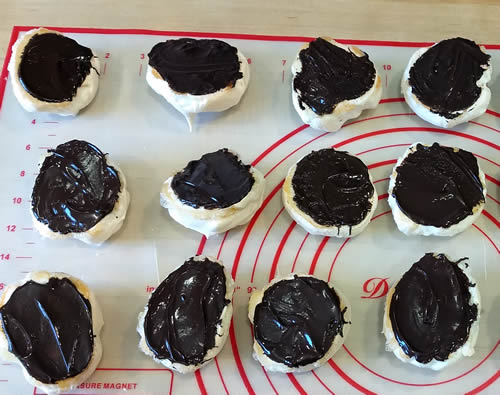 Then after *that* dried, then you top each with a generous dollop of the pumpkin chiffon and ta da, you have a lovely little dessert.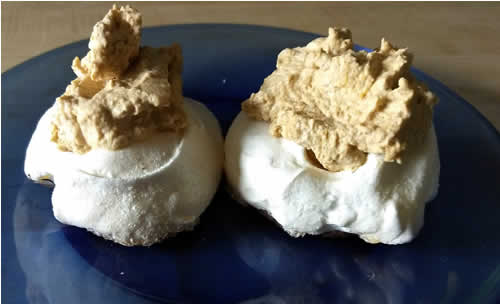 These turned out surprisingly delicious, and I am glad I made them half-sized, because one little cup was plenty for a dessert. You get the light flavor of the pumpkin and spice, combined with the crispy/chewy texture of the meringue, and then just a little hit from the dark chocolate at the end. This is a recipe I would definitely make again.
Here we are at the end of our #BakingSisters session, my sister with her bones, and me, looking weirdly crazed, with two little pavlova cups. Yum.