Last month, for our monthly #BakingSisters video hangout, my sister and I made Smearcase, which is this sort of weird hybrid between a Danish and a cheesecake and something else, and as we were chatting, she suggested that we do a Year of Cheese. Naturally I agreed, because cheese, so this year, every month we will do some sort of cheese-related baking. And this month's theme was pizza.
Naturally, both of us has made pizza a bazillion times before, so the challenge here was to find things we hadn't tried. My sister decided to do, among other things, a sweet apple pizza with a cheddar crust, pizza rolls, and a Chicago style pizza. I, meanwhile, decided to also make the pizza buns, but along with those, I also made bacon, egg, and hash brown pizza, sausage, apple, and thyme breakfast pizza, and, because it's lemon month, a roasted broccoli and Meyer lemon pizza.
To prepare for this, I made a double batch of my regular pizza dough, which then goes into the fridge for a slow rise. Thankfully, the dough was finished mixing before this happened.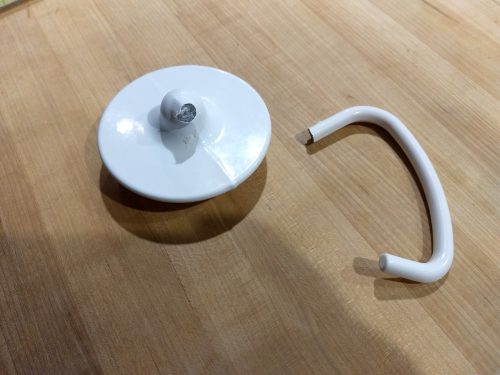 Yes, that is my dough hook, snapped in half. Luckily we live in a time when replacements can be ordered via phone, so a new one is winging its way to me, and the longest part of the process was trying to figure out where the heck they put the model number on my mixer. Phew.
Anyway, onward to the food! First up was the hash brown, bacon, egg thing. I cooked up some bacon, then mixed hash browns with an egg and formed it into a rough circle. That went into the oven to bake, and when that was done, I sprinkled it with crumbled bacon, and carefully cracked three eggs on top. The whole mess was topped with cheese, and back into the oven it went.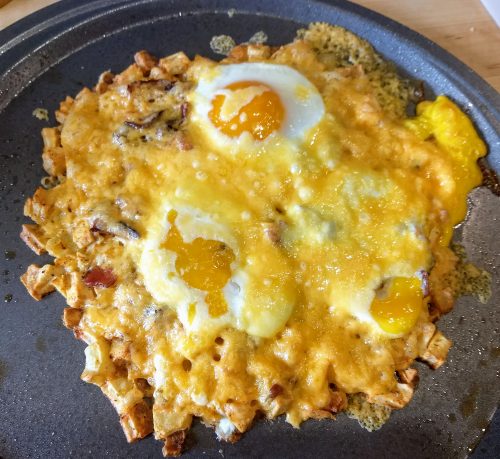 Verdict: it tastes fine, but it's an awful lot of fuss for just some eggs and hash browns. Save yourself the bother (and all the extra dishes to wash) and pass on this one.
While this was baking, I got started on the apple, sausage, thyme pizza. For that, you cook thinly sliced apple and onion, and scramble some eggs. These get piled onto a pre-baked crust which has been brushed with a mix of mayonnaise and Dijon mustard. Top that with crumbled sausage, and a mix of mozzarella and smoked Gouda, then pop it back into the oven until the cheese gets all melty.
You will note how I forgot to mention the thyme? Yeah, guess what I forgot to add to the eggs when scrambling them. But it turned out delicious anyway.
I thought I took a picture of the whole pizza but apparently I didn't, so here's a slice. This is going to be breakfast for the next couple days. Yum!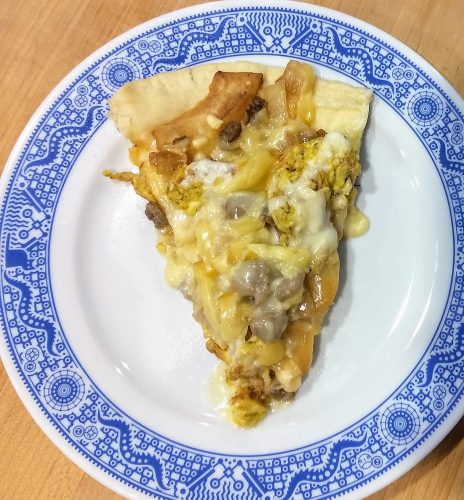 On to the pizza buns. The concept is simple. You pretend you are making cinnamon rolls, except using pizza dough and sauce and toppings instead of sweet dough and butter and cinnamon.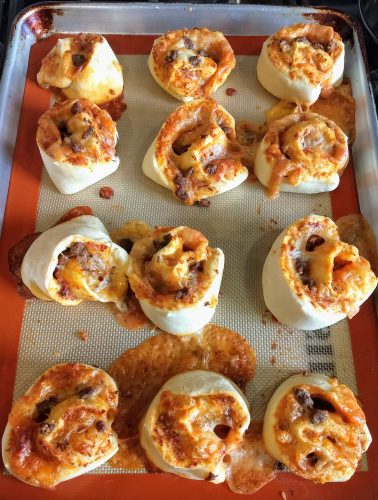 If I ever make these again, I will probably bake them in a pan where they will be holding each other up, because these clearly didn't hold their shape.
As for the taste, well, it's pizza. In a roll. I'm not sure what else there is to say.
As for the last pizza, I admit I was just as skeptical as you probably are. Broccoli and lemon on a pizza? But trust me, it really works. You brush the crust with a mixture of minced garlic and oil, then top it with thinly sliced onions, tiny broccoli florets tossed in the remaining oil, thinly sliced pieces of whole (yes really) lemon, and a sprinkling of mozzarella cheese, then bake until the crust is done and the broccoli is just starting to get some color.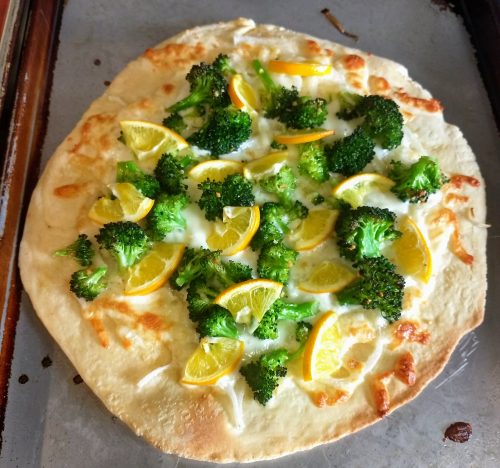 Isn't that pretty?
Verdict: this was surprisingly tasty. In fact, I actually have to admit it was my favorite of all the pizzas I made, and I liked that apple sausage one a lot. I would happily make this one again.
Lemons used: 1
Total lemons this month: 42
Making a lemon thing a day for Thingadailies.