To round out our unofficial Year of Rainbows for the Baking Sisters, this month my younger sister and I decided to do something with a mirror glaze. Originally we were going to do the Walnut Whip from the GBBO finale, but make it peppermint, but we also wanted to do the glaze, and so eventually that just sort of combined into one thing that had no relation to a Walnut Whip at all. Or, for that matter, a rainbow, but let's not get ahead of ourselves too quickly.
Anyway. We started by making a chocolate ganache, because that needed time to chill in the fridge before scooping. That's fairly simple – just heat up some cream, stir in enough chocolate to get to the right consistency, plus a little butter for creaminess, and then set aside.
Then we made white chocolate peppermint mousse, which was also super easy – heat up some cream, stir in some white chocolate and peppermint extract, then once that's reached room temperature, fold that into some more cream that's been whipped to stiff peaks.
Then we remembered we're supposed to be taking pictures, so here's both of those.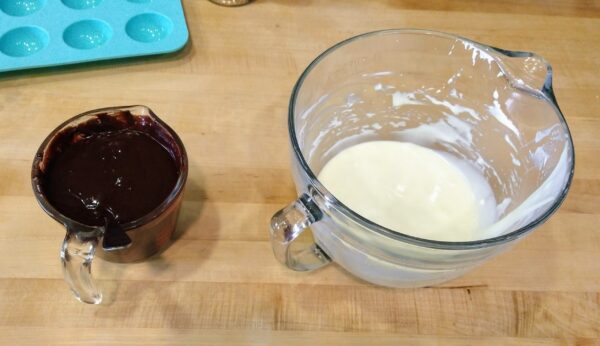 Then I scooped the mousse into my tiny little dome molds, added a little dollop of the ganache, added a little bit more mousse to the ones I hadn't filled quite enough, and popped those into the freezer.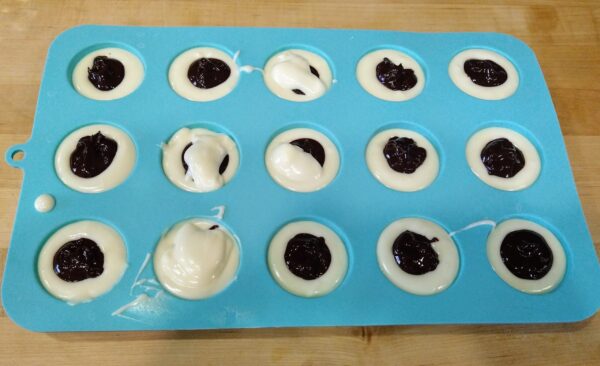 Next it was time to make the cookies. We decided to go with a vanilla sable cookie, into which we stirred some crushed up peppermint candies.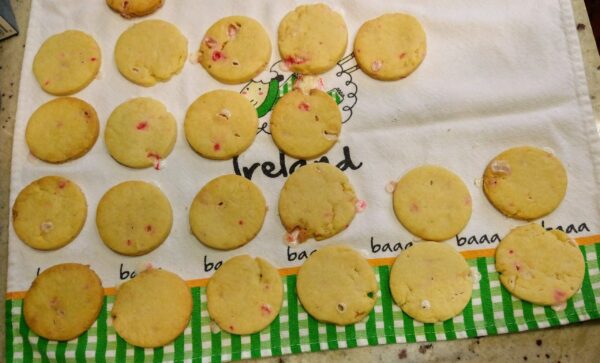 While those were cooling on the counter, then it was time to do the glaze.
Mirror glaze is made of white chocolate, gelatin, and weirdly, sweetened condensed milk. We both used this recipe, which seemed pretty straight forward. Since we were both doing peppermint, we figured picking red and green and white would make total sense. Right?
So, glaze made, divided into three bowls, and food coloring assembled. So far, so good.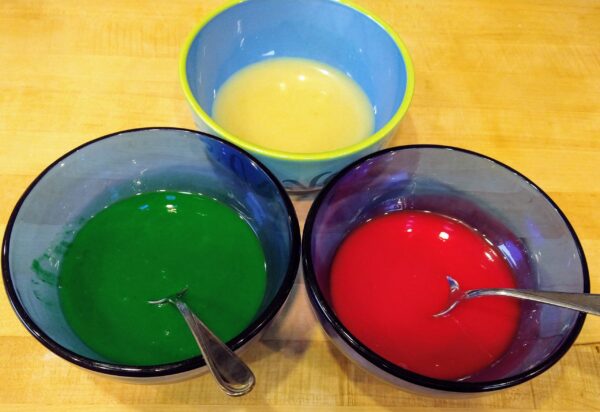 Next the instructions said to pour the colors together into one bowl and just barely stir, before pouring. And this is when things went horribly, laughably wrong.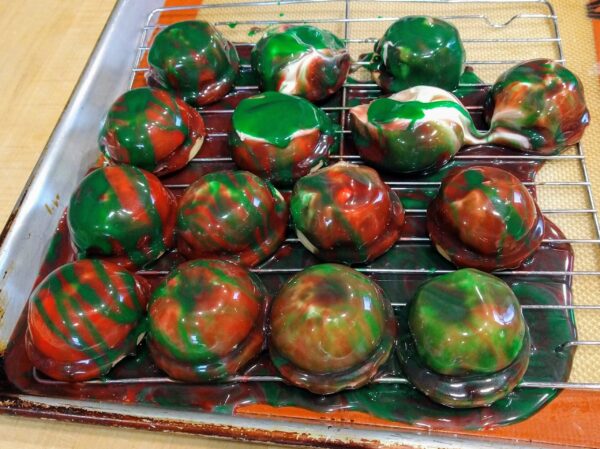 "I can still see some of the white," Richard said, wandering into the kitchen.
"Yes, because that's where I accidentally dropped the bowl and smashed them," I replied.
I think the problem is that we were using a recipe that is meant to make a galaxy sort of swirl, where blues and silvers and blacks would all merge together and it'd be lovely. Let's just say that red and green weren't the best combination to use for that particular technique. They look….well, perhaps this color combination would have been an excellent choice if I was going for zombie guts. Hmm.
It was pretty amusing, however, since there was hysterical laughing from both sides of the camera. At least with mine you can tell there were supposed to be more than one color (the white just completely disappeared). My sister's colors just merged together automatically into a muddy brown that made them look a bit like, well, see for yourself.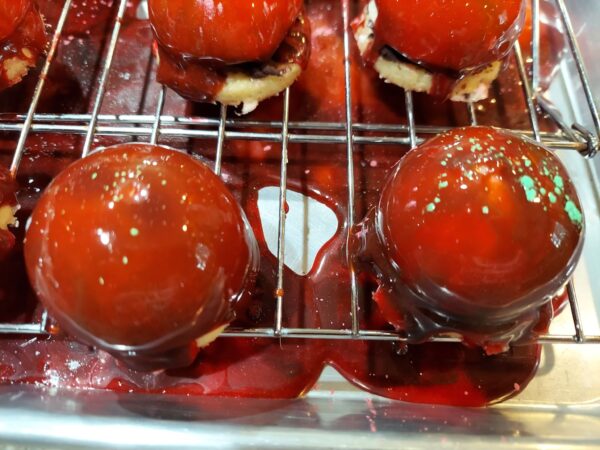 To top it off, she sprinkled hers with edible glitter, to make them sparkly, but which instead had the unfortunate effect of reminding me of when the cats accidentally ate some tinsel, leading to a very sparkly litter box surprise. I think we were all just about crying from laughing so hard.
Anyway, on to the tasting part of the program. I picked the prettiest one of mine to highlight. All alone, on a plate, it doesn't look…bad. I mean, the appearance is not remotely what I was going for, but at least it's (mostly) dome-shaped, and the glaze is definitely shiny.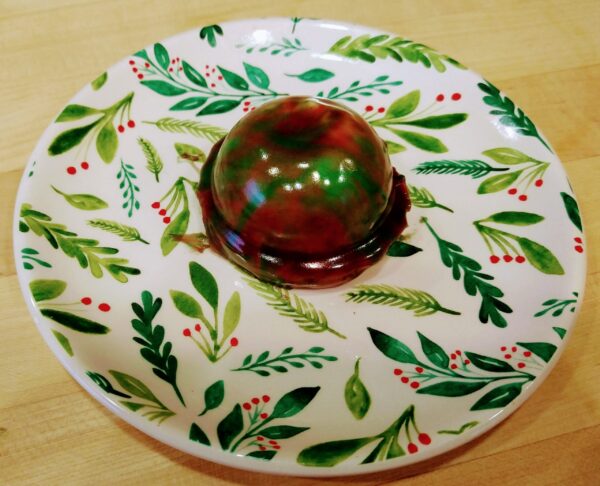 Once cut open, you can see all the distinct layers, so I'm pretty pleased about that.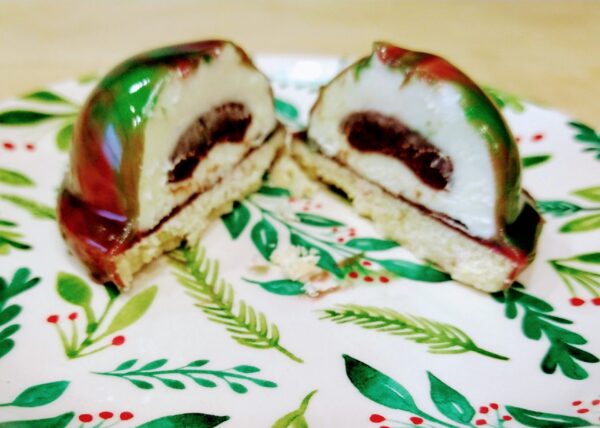 As for taste, while it may look a hot mess, it's absolutely delicious. The peppermint in the mousse was the perfect amount – just enough to be cooling in the mouth, but not enough to veer into toothpaste territory. The ganache helped cut the sweetness, and the crushed peppermint in the cookie gave a little bonus texture. Yum!
So overall, this was a nice way to end our year. We've definitely learned some very important lessons about what not to do with mirror glaze (do not attempt to swirl red and green – learn from our fail!), and after all, it's the taste that matters more than the presentation (no matter what Paul and Pru might say).
'Tis the season for Holidailies.