I realized the other day that half the month is gone and I haven't yet made any cookies. Also I realized it had been a really long time since I fed my sourdough starter (which lives in the fridge and gets fed every month or three, when I remember. Luckily it's a hardy entity and thrives on neglect). So into Google those terms went, and out popped these Sourdough Almond Orange cookies. Yes, there really *is* a recipe for pretty much anything out there.
I actually put the dough together yesterday, since it needed to sit for a while and I knew I wouldn't have very much time today to be messing with it.
This is another recipe where you use the whole orange or if you want to get technical, this one uses the pulp, plus the zest. Since I was only making half the recipe, I just used one large Mandarin, and hoped that would be sufficient. That gets ground up (hooray for the stick blender) with some butter and sugar, and then you stir in almond flour and whole wheat flour until it all just comes together. Then that gets put into the fridge for a few hours (or in my case, overnight).
This morning I rolled out the dough to bake the cookies. I asked Richard to get me a cookie cutter in keeping with the season, and he handed me a dragon, which is why these are all Sourdough Orange Almond Dragons.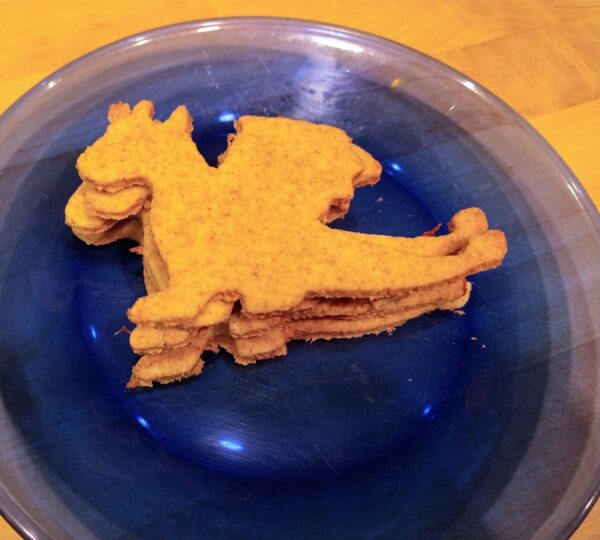 Interestingly, the recipe did not actually specify the length of time they should be baked, so I just kept peeking in to check. So if you should be inspired to make your own Sourdough Orange Almond Dragons, start with about 12 minutes, and then adjust from there.
These were an interesting sort of cookie. The predominant flavor is actually the whole wheat, which disappointed me a bit since I would have expected the almond or the orange to take center stage. They're not a bad cookie, but they're tasty in an earnest 'you are eating a healthy cookie' sort of way, instead of in a 'I am indulging in something decadent' feeling. Perhaps if I were to ever make them again (although the chances of that are pretty much nil), I'd use all-purpose flour, so as to let the other flavors shine. An orange juice glaze might also help too.
Making a thing a day for Thingadailies.