Since today is Valentine's Day, I decided I should do up something fancy for the occasion. So this morning I whipped up a an Orange Cheese Danish.
That sounds way more impressive if you don't realize that I started with store-bought puff pastry, doesn't it?
Anyway, it's pretty simple. Mix up some ricotta (or in our case, cottage) cheese, sugar, an egg, a little flour, and some orange zest, and blend it really well together. Then lay out the puff pastry on a baking sheet, slice the edges, spread the filling down the middle, and fold the cut edge pieces inward to make a pretty pattern. Then that goes into the oven, and when it's baked, then it gets brushed with an orange juice and powdered sugar glaze, then sprinkled with chopped nuts.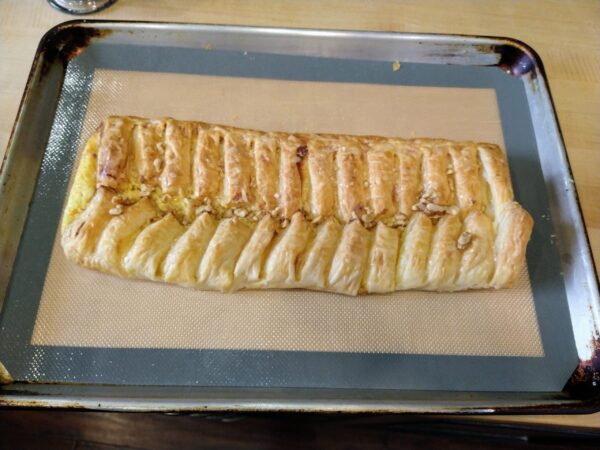 I only made one of these (instead of the two the recipe calls for), since there's only two of us, and things made with puff pastry tend to lose their signature crispness after sitting for a while.
Here's an interior view, of the filling and all those crispy, crunchy layers. Laminated dough is a magical thing.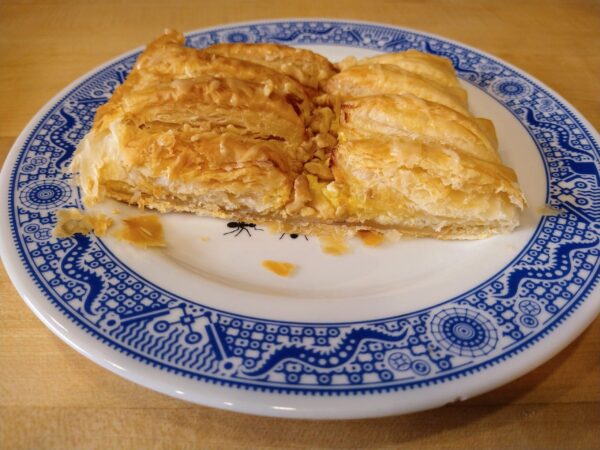 It went together pretty quickly, which was convenient, since the Boskone panels started at 7am (it's an East Coast convention). And it wasn't….bad. It just didn't have much flavor. I think it just needs significantly more filling, or else about twice the amount of zest, or *something*.
The good news is that I do have another package of puff pastry so I could try something similar later on. And orange curd is on the list of recipes to make this month, so….we shall see.
Making a thing a day for Thingadailies.