This year for our general Baking Sisters theme, we decided to do vintage recipes, specifically pie. There are so many weird and wonderful recipes lurking out there that were once apparently very popular, so our goal is to make a few each month and see if they're worth reviving.
This month we picked a couple recipes from a wonderful old cookbook a friend lent to my sister – The Household Searchlight Recipe Book, published by the Household Magazine of Topeka, Kansas, in 1937. The format of the book suggests that this is a collection of recipes sent in by a whole host of readers around the country. Each recipe itself is just a list of ingredients and a few short sentences on preparation – obviously a lot was assumed common knowledge by the cook. For example, the directions for the Apple Fluff pie we made this month said to pour the mixture into 'a pastry-lined pie tin', with no explanation of what type of crust to use, or how to make it, and then 'Bake in hot oven (425 F) until crust is brown and filling is firm', with no indication of how long that might actually entail.
But I digress. This month we decided we would make Apple Fluff Pie, Bran Candy (because the instant we saw that recipe we knew we *had* to try it), and molasses squares, because we were not holding out much hope that the bran candy was going to something we wanted to eat.
First up was making the pie crust, because that needed to chill before the pie could bake. Then we moved on to the the base for the Bran Candy, which is a caramel made from brown sugar, milk, water, a tiny amount of butter, and strangely, a tiny dab of baking powder. Both of us were a bit concerned because the caramel smelled a little burnt by the time we got it to the correct temperature, but ah well.
That needed to cool, so next we moved on to the molasses squares, which again comes together like a caramel, although in this case it's got molasses and white sugar along with the water and butter. Once that came to the correct temperature, that was poured into a pan to cool as well. We were supposed to cut it into squares before it set completely but…oops.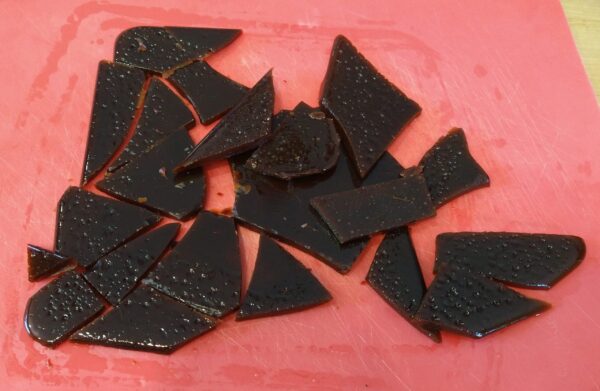 Back to the bran candy. Once at room temperature we were then supposed to stir in the bran (it didn't specify what form of bran, so I used bran cereal flakes because that's what Richard found at the store), and then whip that until it reached a kneadable consistency. However, it was immediately obvious that I had cooked my caramel a little too long, as I had to pretty much chisel it out of the pan with a bench scraper, and it nearly glued my kitchen aid attachment to the bowl. I ended up stretching it by hand, more like a taffy, which did eventually allow me to incorporate all the bran cereal.

Trust me when I say that you do not want to see what this looked like *before* I did my taffy pull technique.
This was then cut into chunks, which were rolled in powdered sugar to keep them from sticking together.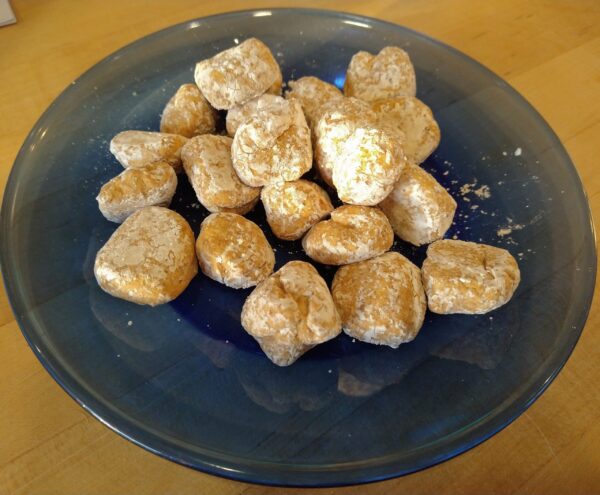 Don't those look appetizing!
Once the bran candy was done, then it was finally time to make the Apple Fluff Pie. This pie intrigued us because the ingredients are applesauce, lemon juice, cornstarch, and eggs, and it just sounded…very odd.
The eggs are separated, then all other ingredients plus the yolks are cooked together over a hot water bath 'until smooth and thickened'. Neither of us could figure out exactly what was meant by 'thickened' since the mixture never got any thicker no matter how long we stirred.
Then you beat the egg whites, and fold in the egg whites, and then that goes into the oven to bake. It took all our willpower but we both resisted adding anything else, like actual flavor (cinnamon, for example) to the pie. That gets popped into the oven and then it's baked 'until set'. That took quite a while.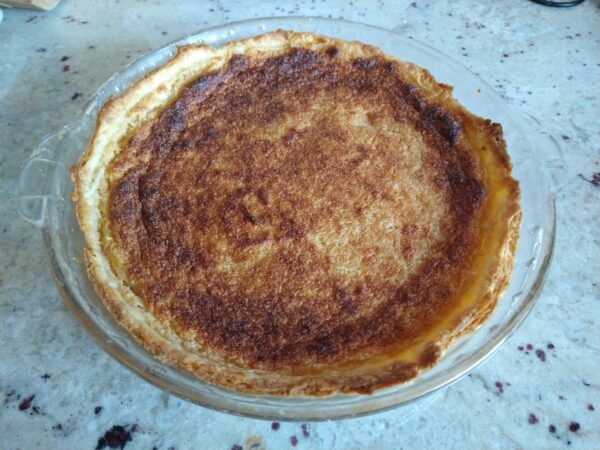 So how did all these weird and wacky recipes taste?
The bran candy has an underlying 'cereal' taste – I'm not sure how else to describe it except that if you have ever eaten a flaked breakfast cereal you probably can picture exactly what I am talking about. Otherwise I doubt you'd know that there's actual bran in there. The cereal adds a bit of texture to the candy, but that's about it. Otherwise it was better than we were anticipating, which isn't saying much since we weren't anticipating it to be any good at all! Fun to make, but not worth the effort of repeating.
I had expected the molasses squares to be more like a molasses caramel but they're instead a hard molasses candy. We both thought they were pretty tasty.
And finally, the apple fluff pie.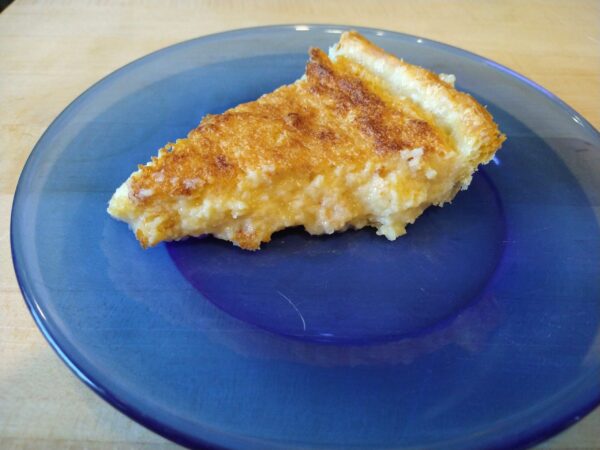 I was hoping this would be reminiscent of an apple pie but….it's basically like eating applesauce. Applesauce in a crust. I sprinkled my slice with a little cinnamon after the first bite, which did improve the overall experience, but then it was just cinnamon applesauce in a pie crust.
So…final verdict: a resounding 'don't bother' for all three of them. They were super fun to make, even if I am going to have to clean out my pans with a chisel due to the hardness of the caramel, but let's just say that if these were considered tasty treats back when this book was published, I'm super glad I'm not a 1930s housewife.
As for my Thingadailies challenge, well, there was lemon juice in the apple fluff pie, so I'm calling it good.
Making a thing a day for Thingadailies.