It was Biscuit Week on GBBO, which in America means they were making cookies. This week the three options were Jammy Dodgers, which we've made before, Brandy Snaps, which we haven't made, and some sort of cookie sculpture, which was way more effort than either of us wanted to put in. The competitors had to do 24 filled brandy snaps in 2 hours, but neither of us wanted to make that many, so we agreed on 12 cookies in 1 1/2 hours.
I used this recipe, since they sounded intriguing, including the irish cream mascarpone filling. The batter is basically just a caramel with a little flour stirred in. You bake uniform globs of this until they've spread and started to bubble. Timing is definitely key – you want them baked enough that once they cool they'll harden, but not so much that they are too hard. Pro tip – adding coffee extract to your cookie batter does not make this any easier.
I don't have molds for this sort of thing so I tried to turn my cookies into little baskets using a muffin tin. This was….not entirely successful. Thankfully the batter made enough for 18 cookies, so of those I was able to get 12 that weren't a complete disaster.
You're supposed to pipe the filling in but apparently gremlins ran off with my box of piping bags, and I was so annoyed after tearing my kitchen apart to find them, plus burning my fingers shaping the stupid things, that I wasn't thinking clearly and filled all 12, which…was not a good idea because even though I sort of slapped a melted chocolate seal on the bottoms, these aren't the sort of cookie that's meant to be assembled far in advance.
Here are my 12 cookies. They're….well, there's the number I was supposed to make and I did it just under the time alloted. So at least I accomplished that much. But let's just say I wouldn't get getting any Hollywood Handshake for these.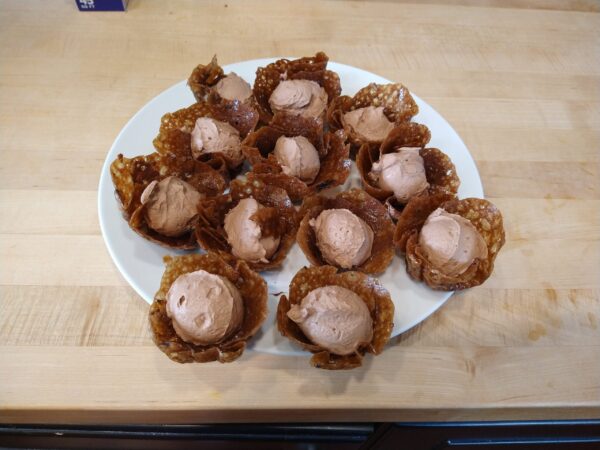 As for the flavor – eh. I have made Florentine cookies before, which are a similar sort of thin, lacy cookie, so I was expecting them to be like that. Nope. They're just…extremely boring hard caramel shells. The filling was nice, at least, but that's about all I can say about them. This is definitely not a cookie I will ever bother making again.