It's the most wonderful time of year again! Yup, Great British Baking Show is back on the air and my sister and I are doing our weekly watch and bake. We started doing this last year – we'd queue up the episode on Netflix and start it at the same time (two states apart), and then choose a recipe from what they were making to replicate at home.
The first episode of this season (last Friday) was Cake Week, and the options were mini Swiss Rolls, Malt Loaf, and gravity defying cake. Since we've made mini Swiss Rolls before, and neither of us wanted to have to fuss with construction just to make a cake, we picked the Malt Loaf.
Malt loaf is apparently a thing that used to be more popular in Britain about 50 years ago. It's a quick bread (in that it has no yeast) and is flavored with malt syrup, and stuffed with dried fruit which are first soaked in black tea. In the competition, the contestants had 2 hours to make it.
Malt syrup isn't a thing I normally have in my kitchen. Thankfully I was able to find a jar at the local food co-op. It's a thick, sweet syrup, similar to honey or molasses, with a distinctive malty smell.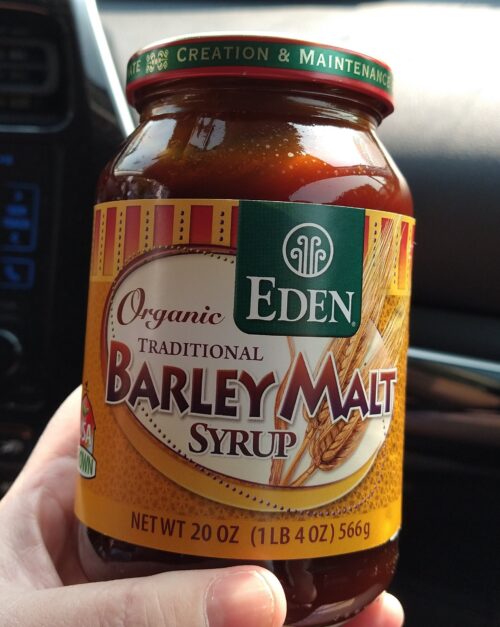 The recipe also called for treacle but I didn't actually notice that until my sister mentioned it and by then I didn't want to have to run back out to find it (it's another ingredient that's not very common in American kitchens). So after consulting with the internets, I decided to use molasses instead. I also used dates instead of the raisins called for in the recipe, because raisins are Not Food, and I stirred in half a cup of nuts at the last minute just to add some texture.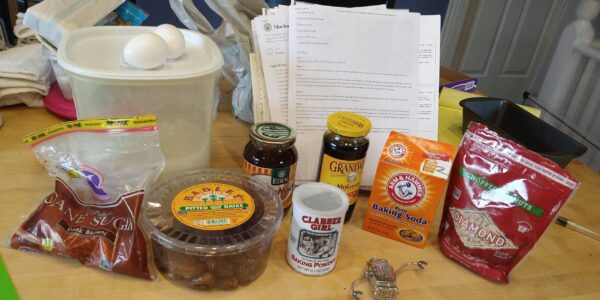 For a quick bread recipe, it wasn't exactly quick. First you have to simmer all the sugars together, and steep the tea. Then you soak the fruit in the tea, and let those cool with a little bit of baking soda stirred in. Next you stir everything together, and pour it into a pan, where it bakes for nearly an hour, and then you pull it out and let it cool in the pan, after first glazing the top with more malt syrup.
I pulled my loaf out and had it glazed with five minutes to spare (of the two hour time limit). It actually took another couple hours to cool completely in the pan, and the glaze on top hardened.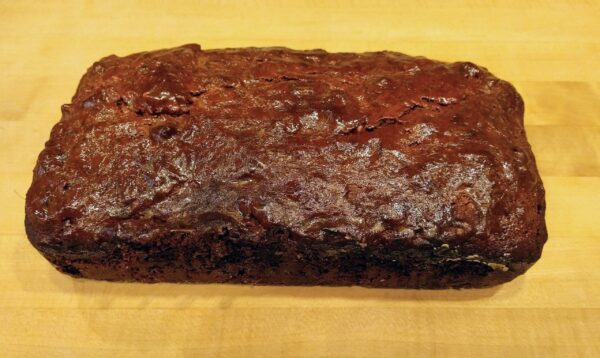 Because I used dates, they mostly melted into the dough, so mine doesn't look as pretty inside as the original one would have. Also, I only have 8 inch or 10 inch bread pans, and it called for a 9 inch, so my loaf is a little bit flatter than it should be. But otherwise it turned out great! And it's actually pretty tasty. The recipe says to wrap it up and let it sit for a few days to get the maximum 'squidgy' texture, and that word definitely fits. It's a bit chewy on the top. where the glaze soaked in, and the bread itself is dense (probably due to the massive amount of fruit inside). I would definitely make this again.