Yes, yes, I know that we're all done now with the Great British Baking Show for another year, but there's just one more baking-related catch-up I need to do. At least this one is more recent, as in from this past weekend.
Each year since we've been doing our monthly Baking Sisters video bakes, my sister and I pick some sort of general theme. But then we hit December and we've already got a lot of holiday-related baking to do, so December usually is just cookies – whatever kind we feel like making. This past Saturday we baked our cookies together over video chat, and had a lot of fun.
This apparently being the year of ignoring traditions, I asked Richard if there were any cookies he absolutely had to have at Christmas, and he and I agreed that it might be nice to have something ginger-flavored but otherwise no. So since I've got two cookie exchanges going on this year instead of the usual one, I decided I'd take this opportunity to try out a bunch of new recipes, to see if any of them might work.
Conveniently, King Arthur Baking Company recently posted a list of 14 new recipes, some of which sounded super interesting, so I picked four:
I made the chocolate molasses dough first, since that had to chill for a couple hours, and then moved on to the alfajores, which only had to chill for one hour. Next I mixed up the rye ginger dough and got those into the oven, and then moved on to the lemon shortbread…except that the recipe calls for masa harina, which I don't have and didn't want to have to go buy (there's only so much room in the freezer for flours that don't get used very often), so instead I did some quick Googling and found these Whipped Lemon Shortbread cookies and decided to try those instead.
After the rye and the lemon cookies were cooling, then I made the chocolate molasses thumbprints, filling them with a molasses and chocolate ganache after they were cooled. And finally, I rolled out the alfajores, and once they were cooled, sandwiched a couple with some of the dulce de leche I made earlier that morning.
So how did they all turn out, you ask?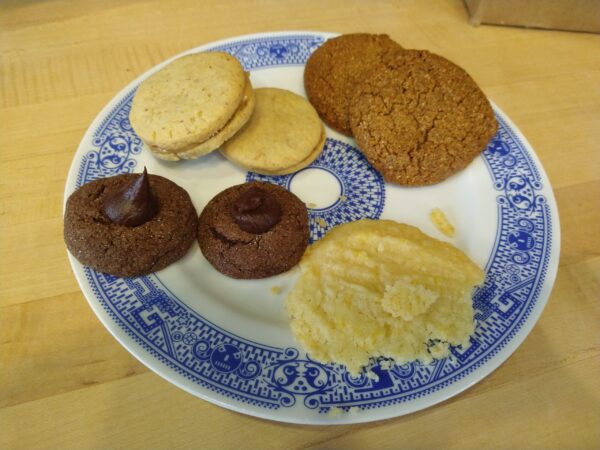 Well, as tasty as chocolate and molasses might *sound*, I did not actually like those at *all*. Nor was I a fan of the Rye Ginger – there was something very off-putting about the texture of the rye in those cookies. As for the Whipped Lemon Shortbread, something was wrong with that recipe because they literally crumbled into pieces when I tried to remove them from the pan. Delicious pieces, mind you, but somehow I doubt anyone in either cookie exchange would be happy to get a bag of crumbs, no matter how tasty they might be.
The alfajores, however, were a success. The cookie is thin and has a delicate flavor of spice (interestingly the coffee didn't come through much at all) and the dulce de leche added just the right amount of creamy texture and sweetness.
As for the rest, well luckily Richard liked them, so they're all his.
'Tis the season for Holidailies.