And now we've reached the end of the GBBO catch-up: the finale. Our options were: carrot cake (signature), Belgian buns (technical) and a collection of tea party treats (showstopper). We did ponder the carrot cake, as that sounded tasty, but the Belgian buns won out.
And what, you might be asking along with contestants, is a Belgian bun? It's a layered sweet roll (think cinnamon roll) topped with a glaze and a cherry. Also they had to put raisins in theirs which my sister and I both agree would make it completely inedible.
After all the much fussier recipes over the previous nine weeks, this one felt almost anticlimactic. I've made cinnamon rolls a bazillion times before, although I don't think I've ever filled them with lemon curd before. You make the dough, then make the lemon curd while the dough is going through its first rise, then roll out the dough and slather it with the curd and roll it up into a log, then cut those into even slices, and put them on a cookie sheet for their second proofing. Once the filled rolls have puffed up a bit, they get popped into the oven until golden brown, and then you brush them with a glaze, and ta da, you have Belgian buns.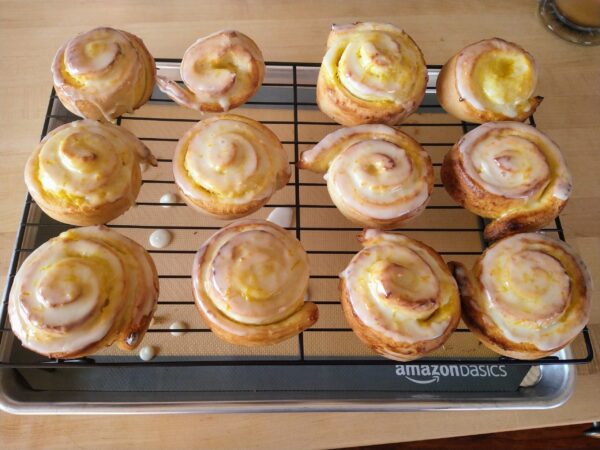 You'll note that I did not bother with the cherry on the top because it didn't seem worth having to go out and buy something I'd only be picking off to throw away anyway.
I got mine done just a couple minutes over the timeline, and only because I was using the proofing setting on my oven to help them rise.
Verdict – they're super tasty, but if I was to do these again (which I probably will, in some form, since we have that overly prolific Meyer lemon shrub in the backyard), I would use the tangzhong method from King Arthur's Cinnamon Roll recipe so that the dough would stay softer. Regardless, lemon curd is an excellent filling for these buns and if you also happen to have a lemon tree drowning you in fruit around this time of year I highly encourage you to give these a try.
'Tis the season for Holidailies.