So I know technically I am not the one who made these, and also technically it happened yesterday, but I am going to use this anyway.
Friday we picked up a very pregnant, extremely friendly little foster cat. Late last night I went in to check on her and noticed that she was having contractions. So for the next hour or so, I sat on my bathroom floor next to her (occasionally offering her pets because in the beginning she kept shoving her head into my hand) and watched her give birth.
After all these years fostering, I've only managed to catch a glimpse of the birthing process once before. It was amazing, and disgusting, and holy crap did my lady parts cringe in sympathy at how quickly a momma cat can go from normal to fully dilated (we're talking minutes here). Also the sound of the mom eating the afterbirth is….not pleasant. At *all*. But it's all part of the process, and momma and her five brand new babies are doing great so far. And best of all, I get the bonus of having super tiny foster kittens without the usual work of bottle feeding, because they've got an excellent momma to do all the heavy lifting.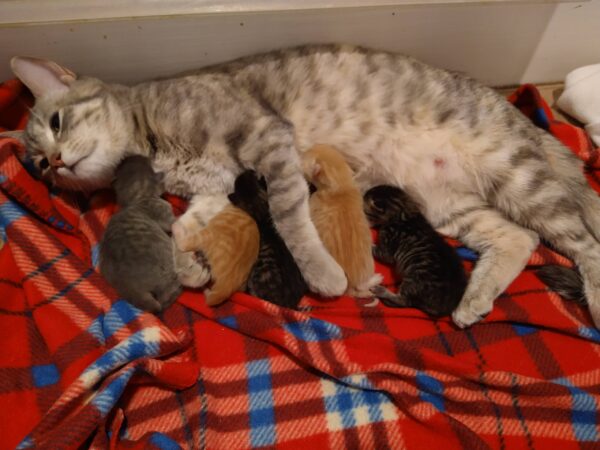 Momma is named Valentina, because she is the sweetest, friendliest little cat who is desperate for all the love, and we named all her babies after the different types of love (in Greek).
You can follow their progress at House of Floof (look for the hashtag #LoveLetterKittens) if you want to watch them grow.
Making a thing a day for Thingadailies.