This year for Baking Sisters, my sister and I decided that we would try making the official (or unofficial) foods of each state. Initially we toyed with the idea of picking and choosing and skipping around, but after January's bake, we decided to focus on one state a month. And since we're going in alphabetical order, that meant Alabama was first.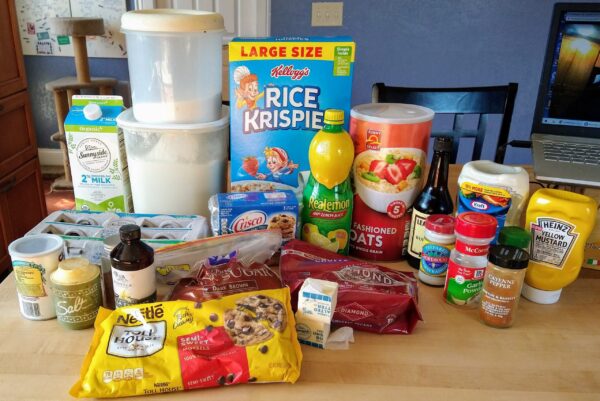 Not all states have an official food, but in Alabama's case, it's the Lane Cake. This is a four-layer vanilla sponge, filled with a mix of dried fruits and pecans soaked in bourbon and cooked into a sort of caramel, and frosted with a cream cheese and whipped cream frosting. The recipe also calls for coconut but we don't like coconut, so both my sister and I decided to leave it out.
We didn't want to make a ginormous cake where we were unsure about the flavor, so we decided to quarter the recipe, which made for some fun with calculator apps when trying to work out measurements. I still did four layers, but used my little 4-inch springform pans, while my sister did larger pans, but only two layers.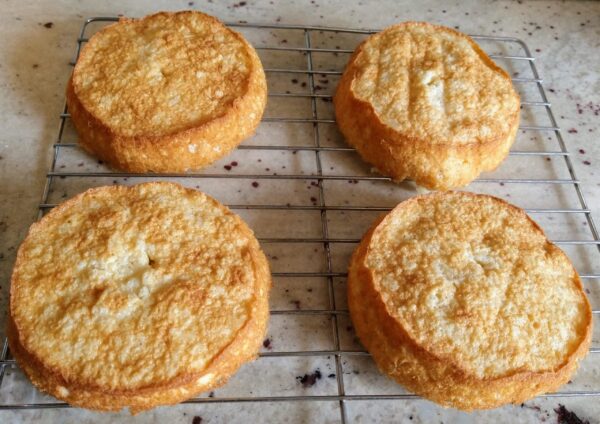 While the cakes were baking, I made the filling. I soaked chopped dried apples and dates in some bourbon, then cooked egg yolks, sugar, and butter until thickened, and mixed it all together with some toasted chopped pecans. That was put into the fridge to chill.
The final step was to make the frosting, which consists of cream cheese, powered sugar, and whipping cream, all blended together until light and fluffy. Then I assembled the cakes and frosted the whole thing. Ta da! Look, it's a very small Lane cake!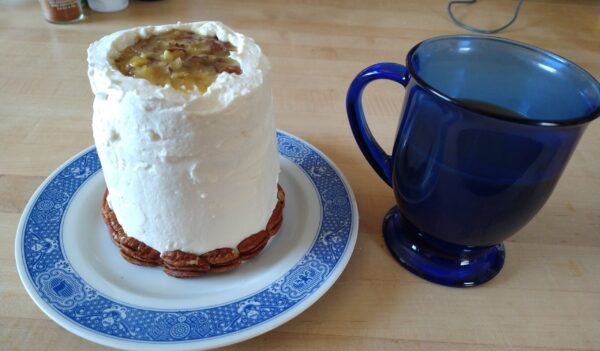 Coffee cup included for scale.
Here it is, sliced, so you can see the layers of cake and filling.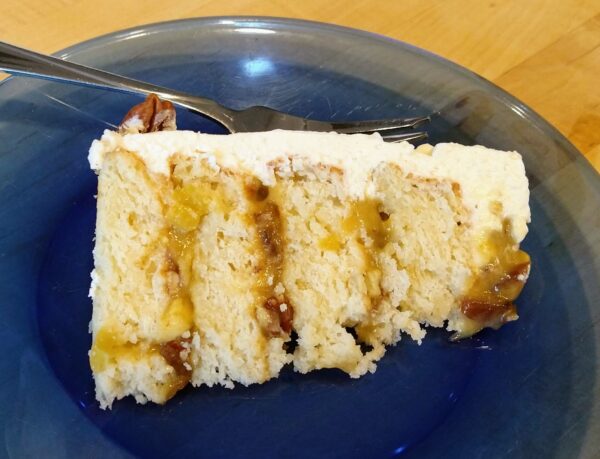 So how did it turn out? Well, the cake itself is tasty, and the frosting is absolutely delicious. The filling is…different. It's not a bad thing – there's a caramel sort of feel to it, and it's tasty enough, but the bourbon was a little overpowering, so I'm not sure it was all that necessary. Still, it was fun to make, so I'm counting that as a win.
Next up, cookies. Alabama Cookies, to be exact. And yes, this is another recipe that calls for coconut except we left it out because coconut is Not Food.
There's a bazillion variations of this cookie recipe on the internet and I don't think it's necessarily unique to Alabama, although maybe it's the pecans that makes them claim it, who knows. It's basically a Jumble Cookie, in that it's a standard cookie base into which a bunch of random extra things get mixed – in this case oats, chocolate chips, toasted pecans, and weirdly, Rice Krispies.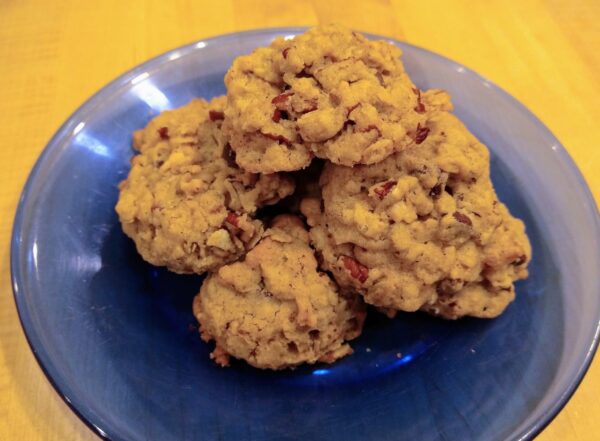 These are not the prettiest cookies in the world, clearly, but they're certainly tasty, and super quick to throw together. Definitely worth making again.
And finally, we decided to tackle something savory – the Alabama White Chicken Sandwich, which is basically shredded chicken on a bun, with White BBQ Sauce, and topped with coleslaw and pickles. We both started with precooked chicken (Richard picked up a rotisserie chicken at the grocery store), and store bought coleslaw (since none of us are big coleslaw eaters), then stirred up the sauce (which is a new-to-both-of-us thing – we'd never actually heard of white BBQ sauce before this). It is white, by the way, because of the horseradish and the mayonnaise.
Here's my sandwich, all assembled.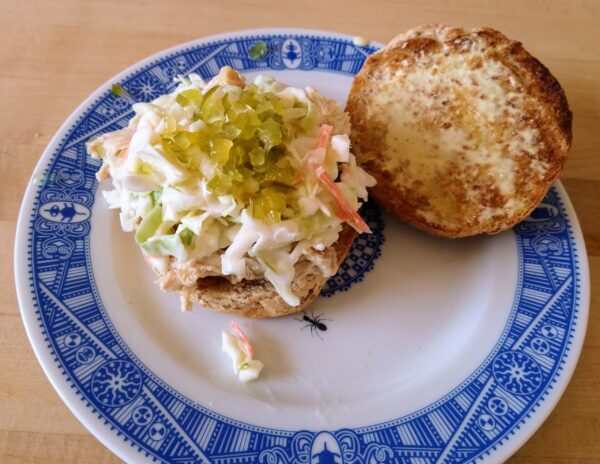 I admit I was a bit hesitant about this recipe because I am not normally a fan of horseradish, but this turned out actually super tasty (and in fact I added in a bunch more horseradish because I felt like the sauce needed a bit of an extra kick).
So overall, this month's bake was a delicious success.
Making a thing a day for Thingadailies.