Hooray, it's the weekend! That must mean it's time for cake. Orange Pound Cake, to be exact.
Here is where I have to admit that pound cake is one of my favorite types of cake – there's something about the dense crumb and the buttery mouth feel that makes me really happy (case in point – the Norwegian Sour Cream Cake recipe from King Arthur Baking Company is in regular rotation in my kitchen). So finding a recipe that combines delicious pound cake with the flavor of fresh orange (or in this case tangelo) sounded perfect.
Pound cakes get their name from the fact that they use roughly a pound each of all the main ingredients. I admit I winced a little when I saw it called for 5 eggs (egg prices being what they are right now) but oh, it was worth it, and not just because it used up half a dozen tangelos. The cake batter gets orange juice and zest. Then once it's baked, you brush it with an orange glaze, and finally, once it's completely cooled, you top it with an orange and powdered sugar icing. It sounds as if it might veer into too-sweet territory, but the tartness of the citrus tones everything down.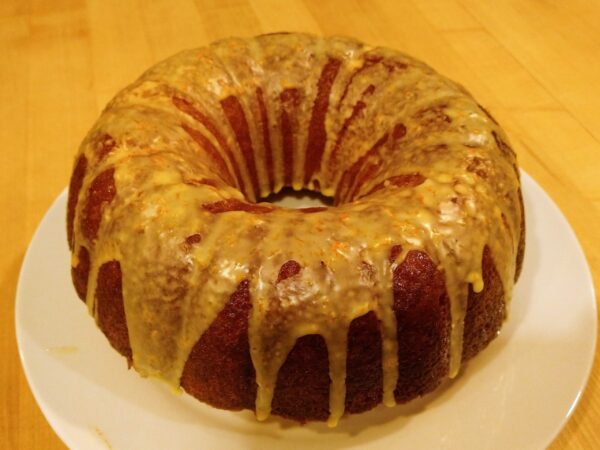 As with any other pound cake, this thing weighs a ton, but it's absolutely delicious. The orange flavor comes through just enough to brighten the palatte, without being overwhelming, probably because it gets the bulk of its flavor from fresh juice and zest instead of relying solely on extracts.
Citrus used: 6 tangelos
Total citrus used so far: 10 tangelos, 4 lemons
Making a thing a day for Thingadailies.