It's not all about the sweet stuff around here, even though I do love to bake things. Tonight I decided to go for something savory, so I made Lemon Chicken with Orzo.
This went together fairly quickly – you cut up the chicken, then dredge it in a mix of flour, salt, and pepper, then cook that in a skillet. Then you remove the cooked chicken, and in the same pan, add broth and orzo (note – I had to add in roughly an additional half cup of water, so you'll want to monitor that) and let that simmer until it's cooked.
The recipe called for the addition of spinach and grape tomatoes, but grape tomatoes and cooked spinach are Not Food, so instead I tossed in a whole pile of broccoli near the end of the cooking time.
The lemon juice gets stirred into the orzo just before it's time to serve, which might sound a little odd, but actually adds a nice bite to what could otherwise be a fairly bland dish.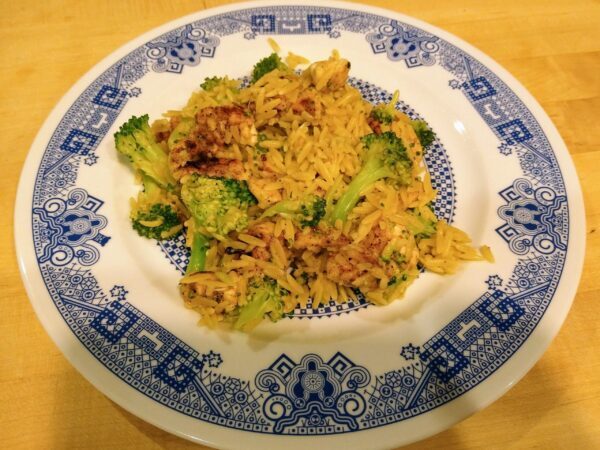 It doesn't look very exciting, I know, but trust me, it's tasty.
We both gave this recipe two thumbs up (and luckily I made enough that there'll be leftovers for dinner tomorrow).
Citrus used today: 2 lemons
Total citrus used so far: 4 tangelos, 4 lemons
Making a thing a day for Thingadailies.