This morning for breakfast I made Lemon Poppy Seed Scones.
I've made scones oodles of time in the past, but I believe this is the first time I've ever put poppy seeds in them. Otherwise, they came together pretty much the same way as all the other scone recipes I've tried – you mix your butter into your dry ingredients (you could do this with your fingers, or a food processor), then stir in the wet ingredients only until just mixed, then form into a circle, cut into 8 pieces, separate slightly, and bake. Then you make a glaze (lemon juice plus powdered sugar) and drizzle that over the tops once they're cooled.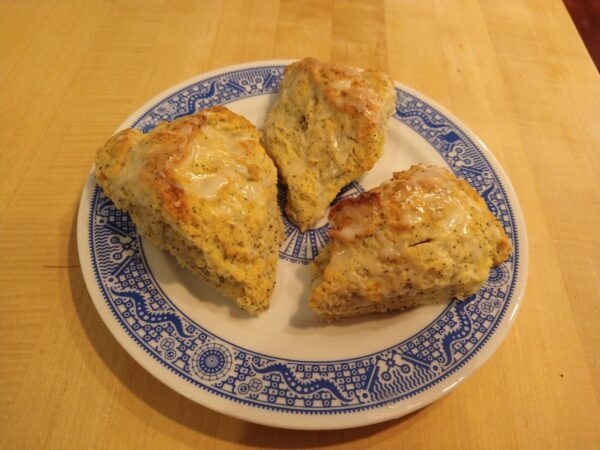 My scones always look a bit slumped – I suspect I should chill the formed dough prior to baking it, except that I am usually in a hurry and don't have time for that.
Anyway. I was rather disappointed by this recipe. The scones themselves have almost no flavor; the only flavor (such as it was) comes from the lemon glaze, which although lovely, is just not enough to make eating a tasteless breakfast pastry worth it.
Citrus used: 1 lemon
Total citrus used so far: 1 mandarin orange, 10 tangelos, 6 lemons
Making a thing a day for Thingadailies.