Oh look, it's February, which means it must be time for Thingadailies, or in this house, time for my annual month of 'holy crap, how do we use up three full trees of citrus before they all go bad?'
So to kick off the month, I made Citrus Pecan Bread, which is a basic oil-based quick bread recipe, but with orange juice and nuts. For tonight, I used tangelos for the juice and chopped walnuts (because that's what was in the freezer), but the general concept is the same.
This is not a new-to-me recipe – in face, I think we got this a couple years ago when we were doing a recipe subscription service, but we both liked it so much that it gets put into rotation at least a couple times each year when the citrus is ripe.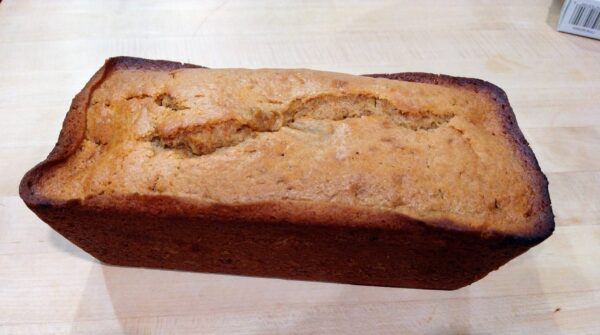 Can you tell where I accidentally jabbed my oven mitt-covered thumb into the loaf when pulling it out to check on it? Sigh.
Anyway, it's super tasty and it used the juice and zest of 4 tangelos, which was the whole point.
Citrus Pecan Quick Bread
Ingredients
1 3/4 cup all purpose flour
3/4 cup brown sugar
1 tsp baking powder
1/2 tsp baking soda
1 tsp cinnamon
1/2 tsp nutmeg
1/3 cup vegetable oil
1/2 cup orange juice (plus the zest from the fruit)
1/2 cup water
1/2 cup chopped pecans
Preheat oven to 350 Farenheit. Grease a 9-inch loaf pan.
Combine all dry ingredients except pecans. Stir in orange juice, water, and oil until mixed (but do not overmix), then stir in the pecans.
Pour into greased loaf pan. Bake 35-40 minutes, or until knife inserted in center comes out clean.  Let rest in pan about 10 minutes before removing; cool completely before cutting.
Making a thing a day for Thingadailies.