For Richard's 40th birthday, 5 years ago, I threw him a surprise party and made him a Cthulhu cake. For this most recent birthday, I decided to make an army of Daleks.
We used a recipe I found on the BBC website as a jumping off point (yes, I made Richard help me, but only because assembling these things took a lot longer than I'd been expecting). The day before the party I made 2 dozen cupcakes and one regular sheet cake. Then we peeled all the papers off the cupcakes and used an appropriately sized biscuit cutter to slide out 24 cylinders from the sheet cake, and I whipped up a batch of chocolate butter frosting and applied a crumb coat to all of the cupcakes and the cylinders, and then we stuck them in the fridge overnight to set. The day of the party I made a second batch of frosting and assembled all the bodies. Richard was in charge of applying peanut butter chips down the sides to mimic the side bolts of the Dalek body, and I assembled arms and eyestalks out of pretzel sticks dipped in chocolate.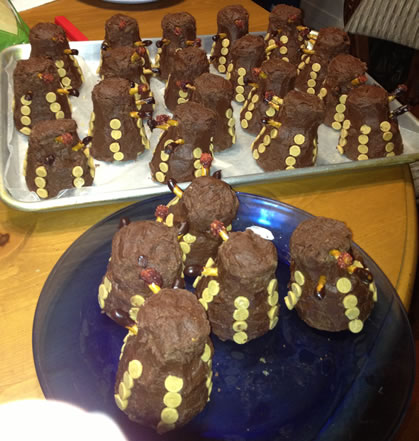 As should be painfully obvious from both the Cthulhu of five years ago, and the Dalek cupcakes of just a few days ago, no one will ever accuse me of being a cake decorator. But it was fun to put together something a little out of the box that fits into Richard's nerdly sensibilities, plus pretty much everyone there recognized what they were right off the bat. Also they were tasty, which is really the most important qualification when it comes to cake.