So a long while ago, back when news first started coming out that a certain laughably bad book series was going to be made into a movie, I looked at the cats and I pondered for a bit, and then – then I had an amusing thought. Fast forward a month or two, to last September, and I put a call out on the interwebs, asking for people to send me pictures of..certain things. Fuzzy things. More specifically, grey things. It didn't matter what species; all that mattered is that they had to be grey. And shed.
And then life got busy and I kept forgetting to go back and deal with all the pictures, and fast forward to February, when I realized that the movie's official release date was going to fall right on Valentine's Day and so if I was going to capitalize on this silly amusing thought, I'd better get cracking.
So today, in between making kouign amann (yes, really, but you will have to wait until tomorrow to hear more about that) and cleaning the house, I have been camped out at my computer, fighting with Google's video editor (which is…mostly, but not completely, intuitive. Or in other words, there was definitely some swearing involved, but it was at a minimum), putting all the pictures together and coming up with text and picking just the right music, and..okay, seriously, people, I am clearly not a videographer, but I think it turned out okay, and the whole point was just to make people laugh, so without further ado, here you go.
*****
Today's dishcloth is a plain old garter stitch cloth again, because people, I was busy all day baking delicate pastries and putting together an AWESOME video for all of you and who has time for caring about actual patterns? Look, here is a perfectly beautiful, flaky and delicious kouign amann to distract you from how boring the dishcloth underneath actually is. Mmm. Pastry.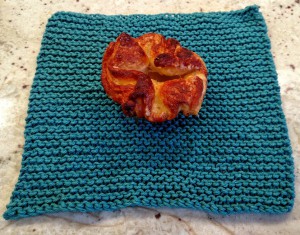 Astute readers may notice that that this is now the fourth dishcloth done in the same teal. I did warn you all I had a lot of it in my atash. And there's still plenty more to go.