Today is Pluto Day, which left me a bit stumped as to what to do for it (I mean, besides play this a few times).
But then I remembered that earlier this month there was a food day I didn't actually celebrate, and also, thanks to the Tim Tams, I now own a key ingredient, so today we are celebrating Bagel and Lox Day (which was February 9th), except without the lox because neither of us is a fan.
I have tried bagels a couple times before, with minimal success. In theory, they should not be difficult, because it's really just a fairly basic yeast dough, only you boil it for a bit prior to baking it. But previous attempts have turned out sad, flat discs that only resembled bagels in color, but not much else.
However, King Arthur Flour has a recipe and over the past few years I've learned that if I want to try baking something new, I should check on their website first, since pretty much every one of their recipes I've tried has turned out delicious. This particular recipe calls for, you guessed it, malt powder. Gosh, what a lovely coincidence!
The dough is pretty straightforward. I mixed it up and stuck it into my usual winter proofing space (microwave, after heating up a couple of those rice-filled heating pads, so that the interior, once the door is closed, stays at a nice, cozy temperature that yeast really likes). The recipe calls for cutting the dough into 12-16 pieces, but I actually did 24, because we wanted slightly smaller bagels. Forming the bagels is kind of fun, because basically you stab a hole in the middle of the dough ball and then spin it around on your finger to open it up.
Next, the rings get a short water bath in a mix of boiling water, malt powder, and sugar. This is what gives bagels their characteristic chewy outer skin. And finally, once they're boiled, they go into the oven, and a short time later, you have bagels!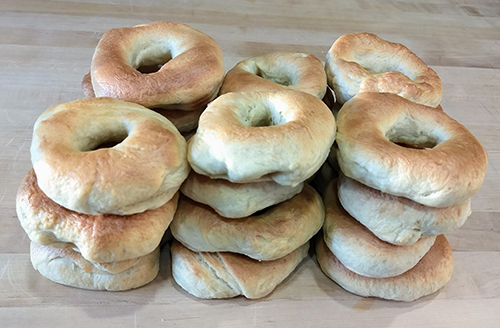 Unlike previous attempts, these turned out fantastic. They are chewy on the outside and soft in the middle, just like they should be. Some of them did turn out a little flatter than they should have been, but that was totally my fault – pro tip, don't boil your dough rings until right before you are ready to stick them in the oven, or else they'll start to deflate!
I'll definitely be adding this to the regular bread-making rotation, and malt powder is now going to be a pantry staple. Yum!
Making a thing a day for Thingadailies.