Today is Chocolate Mint day which seems a bit redundant, since earlier this month there was also Peppermint Patty day. But then I guess there's other things you can do with chocolate and mint, so eh, whatever.
It being a Monday, which means very limited time for me to make anything, what with work and rehearsal, I went for something quick. I used this recipe, since it makes only two, but instead of adding in chocolate chips, I chopped up the last of the peppermint patties and mix those in instead. I do not own tiny skillets (nor do I foresee a need for me to own tiny skillets), but I *do* own tiny tart pans, so I just baked the brownies in those.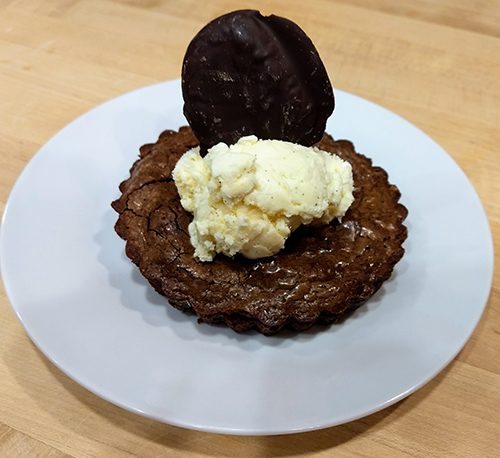 Verdict: This is a very delicious brownie (although I question the 'for two' designation, since each one could easily have been shared between two people on its own), but alas, the mint flavor didn't really come through. Ah well. I think at this point, we're a bit minted out anyway, so it wasn't any great loss.
Making a thing a day for Thingadailies.